MCPSS Academy of Virtual Learning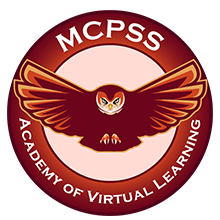 MCPSS Academy of Virtual Learning is a unique pathway to graduation, serving students in grades 8-12 who are self-directed, responsible, and independent learners. Students who enroll in the MAVL have placed a priority on academics and mostly prefer to work independently. This is a pathway for average to above average students who prefer to have more control over their learning environment and schedule. MAVL curriculum allows motivated students to accelerate their academic progress. Students have access to virtual teacher support through their MAVL courses. MCPSS Academy of Virtual Learning will report all academic progress just as other schools do.
Students must have daily computer and internet access to apply for the school. An adult, typically a student's parent or guardian, must agree to serve as a Learning Coach to support the student's learning and monitor the student's progress.
Students must stay on a prescribed pacing guide that is determined by MAVL. All daily activities, lessons, and quizzes will be completed from the student's personal computer with internet access within the learning management system. Students will be required to come on campus at least once a week to take unit tests in each course. Moreover, students will be required to take state-mandated tests at the designated time at their zoned high school.
Attendance is calculated based on active participation in the learning management system, staying on pace, and passing grades. Selected students must complete a minimum of 30 hours of work per week.
Applications will reopen for Spring 2021 in October.
For more information, visit mcpssvirtuallearning.com or call 251-221-6700.