MCPSS Academy of Virtual Learning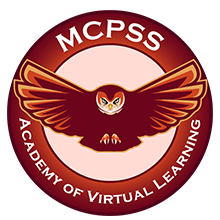 The deadline to apply for Fall Semester 2022 has passed.
As an innovative, highly accountable learning environment without walls, MCPSS Academy of Virtual Learning offers a unique and flexible learning opportunity with extensive support from teachers, individualized instruction, and a full range of courses.
Unlike a traditional school setting, MAVL students work in their courses at the time of day that is more suitable for their schedule. Face-to-face meetings occur on campus for tutoring, academic counseling, and testing. Students who enroll in the MAVL have placed a priority on academics and mostly prefer to work independently. This is a pathway for average to above-average students who prefer to have more control over their learning environment and schedule. MAVL curriculum allows motivated students to accelerate their academic progress.
During the Curriculum Lab visits, students are able to form study groups and friendships while enhancing 21st-century skills. MCPSS Academy of Virtual Learning offers not only core courses but also many career and technical education courses, honors and AP courses, foreign languages, and other academic electives, which will enable students to have a well-rounded educational experience.
Motto
Empowering Tomorrow's Leaders, Using Today's Technology
Mission Statement
MCPSS Academy of Virtual Learning provides an individualized, blended educational program for students who will learn today to lead tomorrow.

Core Beliefs
We believe high expectations are essential as we enable all students to be successful; and we are committed to providing an academic experience that EXPANDS educational opportunities for all.
We believe in equipping students in becoming college and career-ready.
We believe in providing flexible and blended learning opportunities.
For more information, visit mcpssvirtuallearning.com or call 251-221-6700.