Mobile County Public School System First Class Pre-K
Pre-K Parents, the Alabama First Class Pre-K screening and random selections for the 2019 - 2020 school year have closed.

If you completed the screening and random selection on or before March 29, 2019 you will receive an email beginning April 16, 2019 notifying you if your child was selected or placed on the waiting list.

Anyone registering after March 29, 2019 will be placed on the waiting list. Please click the link below (or copy/paste the link into your browser) if you have not registered and would like for your child to be placed on the waiting list for one of the sites listed below. Do not upload any documents (birth certificate and proofs of residence) into the application.
APPLY HERE: https://alprek.asapconnected.com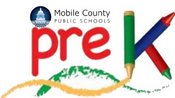 We believe young children should be involved in direct, hands-on experiences with people, objects, ideas, and events. Children's intellectual, social, emotional and physical development occurs naturally when they are engaged in active learning opportunities of exploration and discovery. Adults facilitate child-initiated activities that promote investigation, decision-making, cooperation, persistence, and problem solving.
Students who attend First Class Pre-K
are ready for kindergarten
out perform their peers in reading and math
have higher attendance rates
are less likely to require special education placement
are less likely to repeat grades
Pre-K Pre-Registration Requirements:
Students pre-registering for Pre-K must be four-years old on or before September 1, 2019.

All students pre-registering should have an original birth certificate, bring to the onsite screening.

Parents/guardians must have a photo ID to pre-register their child and two proofs of residence, bring to the screening.

Students may pre-register for any Pre-K program since all schools do not have Pre-K. Students pre-registering for one of the Title I sites may pre-register for only one site and attend one of the screening sessions in March (must reside within one of the listed Title I school attendance zones).

Any student who resides within the Mobile County Public School System may pre-register for any of the Office of School Readiness Sites (OSR).

*They must reside in a Mobile County Public School System Title I attendance zone in order to pre-register.
Reminder: this is only an application for the Pre-Kindergarten program, not registration. Applying for Pre-K does not guarantee placement into the program.
MOBILE COUNTY PUBLIC SCHOOL SYSTEM
Title I PRE-K SITES - 2019-2020
Booth
Burroughs
Calcedeaver
Collins-Rhodes
Council
Craighead
Dickson
Dixon
Eichold-Mertz
Fonde
Hall
Hollinger's Island
Indian Springs
North Mobile
Just 4 Develop. Lab
Leinkauf
Maryvale
Meadowlake
Nan Gray Davis
Orchard
O'Rourke
Robbins
Spencer-Westlawn
Whitley
Will
Wilmer
Taylor-White
SCREENING SITES DATES AND TIMES FOR
Title I PRE-K SITES 2019-2020

Mobile County Public School System
Office of School Readiness Sites - 2019-2020
*The following elementary school zones are not Title I for the 2018-2019 school year:
NON-TITLE I ELEMENTARY SCHOOLS 2019-2020
If you reside in one of the above listed "Non-Title I" attendance zones you may apply for any of the Office of School Readiness Sites.
If you are not sure if you reside in one of the above attendance zones please use the school zone locator to determine your school attendance zone. Click the link below to locate your school zone:
https://www.excensus-guidek12.net/mobileal/school_search/current/

*Participation in the Pre-K programs located at Magnet School Sites does not automatically place a child in the Magnet program. Parents must complete the online application the following year for the child to be included in the selection process for kindergarten at the Magnet School.

The Mobile County Public School System serves children with the greatest needs and their families in preschool units, consisting of eighteen (18) four-year-olds, a teacher, and an auxiliary teacher that have been placed in Title I elementary school sites. Approximately 900 children are served in these units. The Just 4 Developmental Laboratory is an early childhood center providing services to approximately 306 four-year-olds. For additional information about Just 4 visit the school website at http://just4.mcpss.com/
The Mobile County Public School System's First Class Pre-K meets the following "Quality" benchmarks:
1. Comprehensive early learning standards
2. Pre-k teachers have a bachelor's degree
3. Pre-k teachers have specialized early childhood training
4. Assistant Pre-k teachers have a Child Development Associate (CDA) credential or equivalent
5. Teachers participate in a substantial number of professional development
6. Maximum class size is 18
7. Staff to child ratio is 1:9
8. Children receive screening, referral and support services for vision, hearing, dental, health and other support areas
9. Children are provided meals and/or snacks
10. Systems hold individual classrooms accountable and monitor to ensure quality standards are being met.
If you have any questions or concerns, please call Paula Reese, School-Home- Community Programs Manager, Mobile County Public School System at 221-5221 or 221-5218 or send an email below: