All Menus listed below will vary by school. Menus are subject to change due to deliveries & commodities
Mission Statement
"We Serve Education Every Day"
The mission of the Mobile County Public School Systems Child Nutrition Program is to provide healthy and nutritious meals daily to all of the District's students in accordance with all applicable guidelines.
Goals of Child Nutrition:
Serve nutritionally adequate, appealing and healthy meals

Help children grow socially and emotionally

Extend educational influences to the homes of school children

Improve children's food habits with the ultimate goal of developing healthy adults

Comply with federal, state, and local requirements
What is CEP?
The Community Eligibility Program states that all enrolled students of the Mobile County Public School System are eligible to receive a healthy, reimbursable breakfast and lunch at school at no charge. No further action is required of you. Your students will be able to participate in these meal programs without having to pay a fee or submit an application.
If a la carte items are selected, each student will be required to pay for the additional items at the food prices approved by our district's board of education.
Wellness Plan:
The Wellness Plan encompasses the recommendations for nutrition and exercise provided by the Alabama State Department of Education, USDA and Hunger Free Kids Act of 2010. This plan helps to provide a school environment that models health promotion and takes action to combat the rising health risks in children.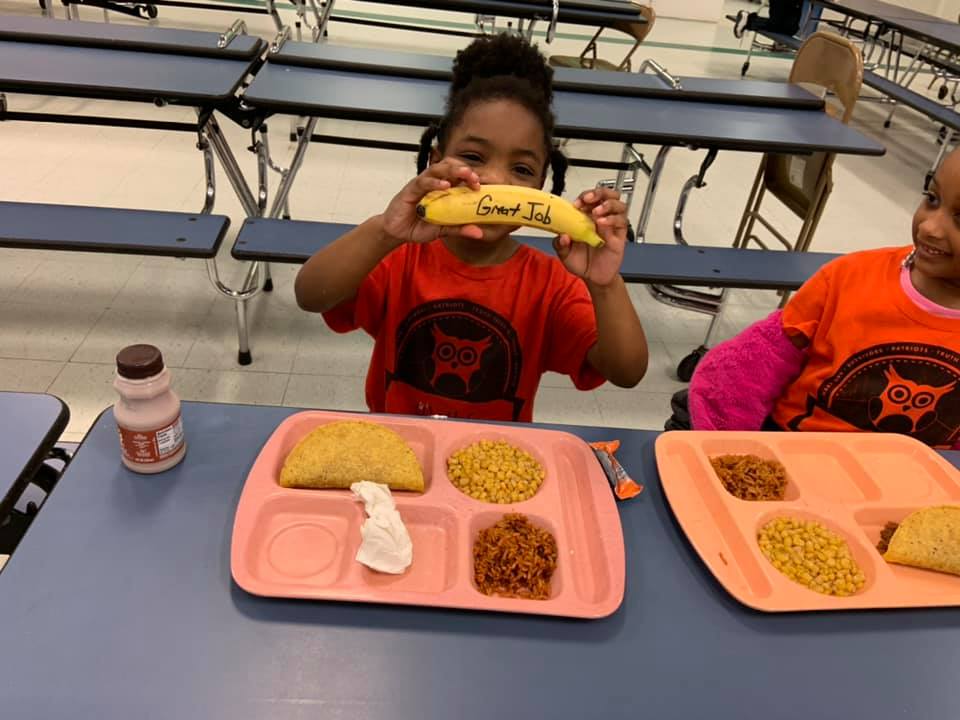 Mobile County Public Schools will continue to provide breakfast and lunch to children under the age of 18 at no cost as part of the federal Extended Summer Feeding Program. One breakfast per child can be picked up each day Monday through Thursday between 8 a.m. and 9:30 a.m., and one lunch per child can be picked up each day Monday through Thursday from 10:20 a.m. to 11:45 a.m. Each child must be present at pickup to receive a meal. Below is a list of open sites for June. An updated list will be provided for July, as some sites may change.
Sites serving now (serving through 6/30 unless otherwise noted):
Alba Middle (through 7/29)
Baker High
B.C. Rain High
Blount High (through 7/29)
Calcedeaver Elementary (through 6/29)
Castlen Elementary
Chastang-Fournier K-8
Collier Elementary
Davidson High (through 6/29)
Dixon Elementary
Eichold-Mertz Magnet
Ella Grant Elementary (through 6/29)
Florence Howard Elementary
Fonde Elementary (through 6/24)
Hollinger's Island Elementary
Holloway Elementary (through 6/29)
Hutchens Elementary (through 6/28)
Kate Shepard Elementary (through 6/24)
Meadowlake Elementary (through 6/29)
Nan Gray Davis Elementary
O'Rourke Elementary (through 6/15)
Vigor High
Whitley Elementary
Williamson High

Sites serving beginning on June 3, 2021:
Anna Booth Elementary (through 6/30)
Sites serving beginning on June 7, 2021:
Allentown Elementary (through 6/30)
Augusta Evans Special School (through 7/1)
Breitling Elementary (through 6/19)
Burroughs Elementary (through 6/29)
Griggs Elementary (through 6/22)
McDavid-Jones Elementary (through 6/29)
Spencer-Westlawn Elementary (through 7/8)
Taylor-White Elementary (through 7/1)
Sites serving beginning on July 1, 2021 (serving through 7/29):
Calloway-Smith Middle
Causey Middle
Denton Magnet
Hankins Middle
Mobile County Training School
Pillans Middle
Semmes Middle
Mobile County Public Schools will also be bringing meals to other schools only for students attending K-3 Literacy Camp or Fifth Quarter.
In accordance with federal civil rights law and U.S. Department of Agriculture (USDA) civil rights regulations and policies, the USDA, its agencies, offices, and employees, and institutions participating in or administering USDA programs are prohibited from discriminating based on race, color, national origin, sex, disability, or reprisal or retaliation for prior civil rights activity in any program or activity conducted or funded by USDA.

Meals, foods and beverages sold or served at schools meet state and federal requirements based on the USDA Dietary Guidelines. All meals, foods and beverages are prepared and served by qualified child nutrition professionals. We provide students with access to a variety of affordable and appealing foods that meet the health and nutrition needs of students.
All of our meals must meet the new USDA Nutrition Standards, which require the following:
Fat free and 1% milk choices
More whole grains
Larger portions on fruit servings at breakfast and lunch
Larger portions on vegetable servings and specific vegetable types that must be served (dark green, red/orange, beans/peas, etc.)
Less portions of meat
Age appropriate calorie limits
Less sodium
Less saturated fat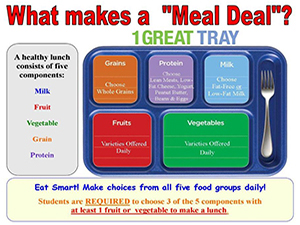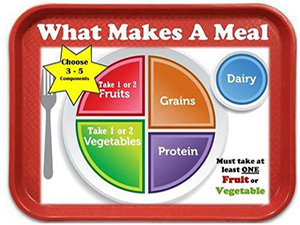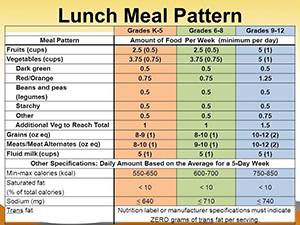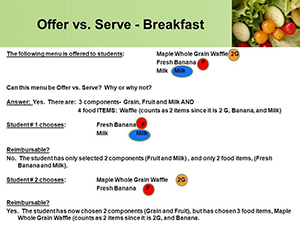 Meal Prices & Worthless Check Policy
When school is out, meals are in. The MCPSS Child Nutrition Department offers one of the largest summer feeding programs in the state of Alabama. Meals are provided to all children 18 years and under at no cost. Registration is not required to receive meals.
Smart Snacks & Requirements for Special Diets
Check out the new "Sharing Table" in Allentown Elementary school's cafeteria! Many students come to school hungry or without snacks and this is not only a fantastic way to keep their bellies full, it's also a great way to decrease the amount of food that is wasted daily. Thank you Jessica Rae Sanders and Karen Kimbrell Smith for setting up this wonderful project!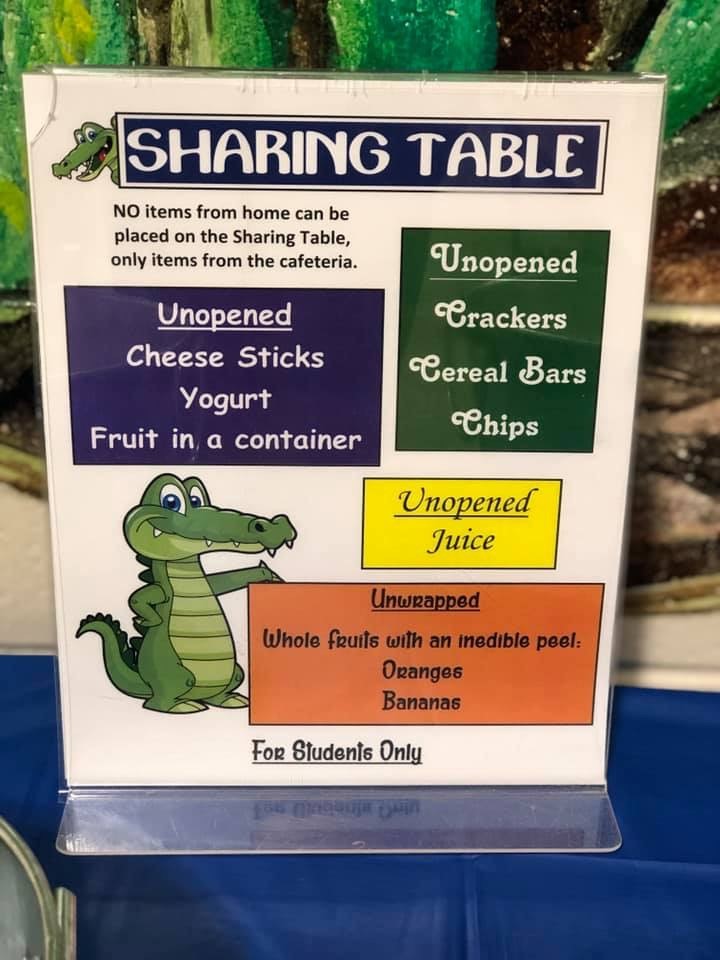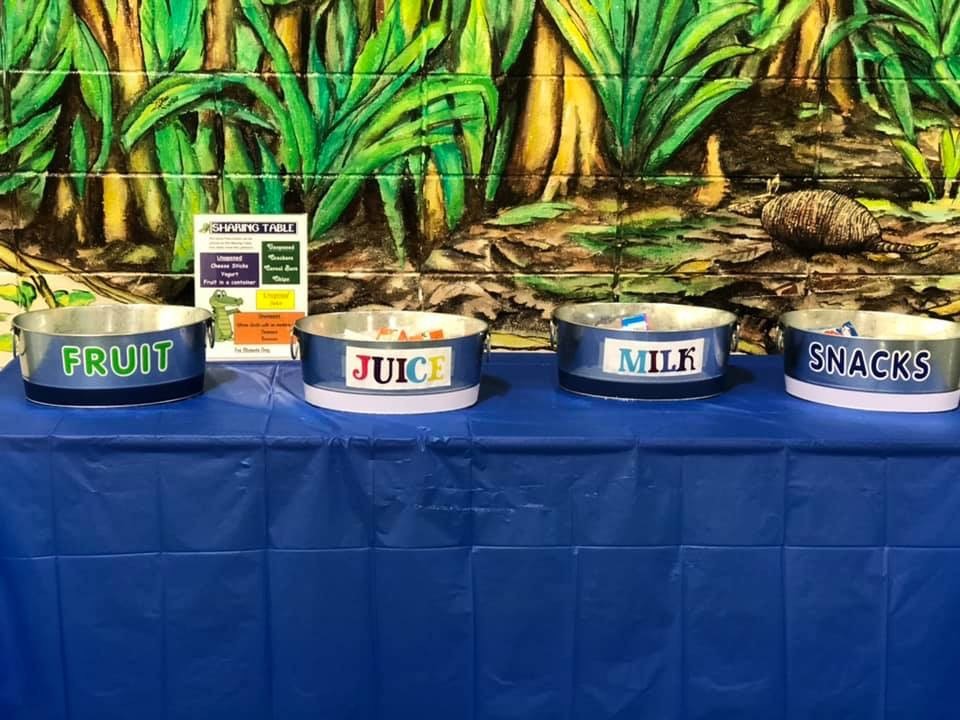 Child Nutrition Program Contacts:
| | | |
| --- | --- | --- |
| Ms. Caroll L. McQueen | Food Services Director | 251-221-4374 |
| Amanda Reyer | CNP Specialist | 251-221-4374 |
| Peggy Savell | CNP Specialist | 251-221-4374 |
| Felecia Adams | Operations Supervisor | 251-221-4374 |
| Harolyn Ezell | Computer Support | 251-221-4374 |
| Briana Bell | CNP Clerk | 251-221-4374 |
| Diane Hammac | CNP Clerk | 251-221-4374 |
"This institution is an equal opportunity provider."