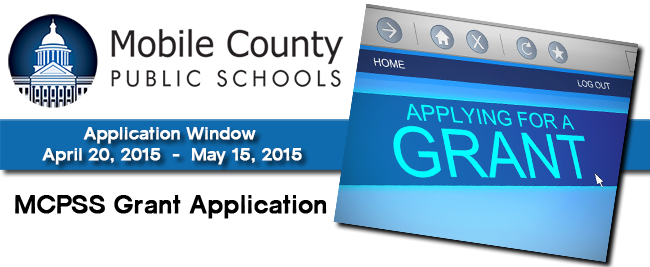 NOTICE: Mobile County Public Schools is now accepting grant applications for the 2015-2016 school term. The following instructions serve as a guide in completing Mobile County Public Schools' Grant Application.
The 2015-2016 window for Grant Applications is April 20, 2015 through May 15, 2015. All grant applications and required supporting documents must be submitted by 4:00 PM Friday, May 15, 2015. Consideration will not be given to requests for funding made after the grant deadline.


MCPSS Grant Funding opportunities for the 2015-2016 school year are available only through this online grant application process during the April 20, 2015 - May 15, 2015 application period.


Grant proposals must be submitted electronically. Faxed or hand delivered copies will not be accepted.


Accuracy and completeness of grant proposals are critical to MCPSS's ability to conduct a fair and thorough review of each proposal. Incomplete applications are ineligible for funding consideration.


Funds are available for obligation upon receipt of award letter for the 2015-2016 school year. Budget guidelines must be closely followed throughout the implementation of the proposal.



Contact us at

grants@mcpss.com

if you have any questions.
Click Here to fill out the Grant Application
During the application process you will be asked to submit data supporting your answers. Data to support the identified need, summative data to document impact, formative data for monitoring, and documentation of impact from previous years (if applicable) must be emailed to grants@mcpss.com. Failure to submit the required information in accordance with the timeline as specified in the grant proposal will void the application and make ineligible for future funding.
Click Here to download the Budget Form
Once you have downloaded and completed the budget form, please email it to grants@mcpss.com. The Budget Form must be submitted with the application by May 15, 2015.