A message from Superintendent Chresal D. Threadgill as we end the 2020-21 school year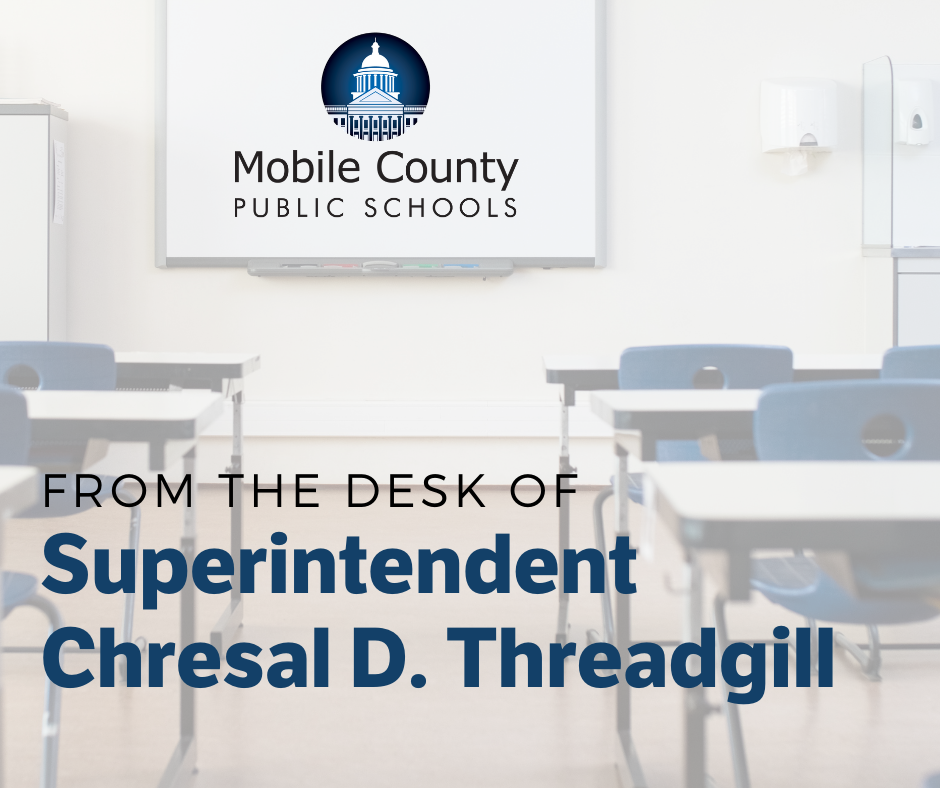 ---
MCPSS Parents and Guardians,
Last week, I had the honor of witnessing approximately 3,500 seniors graduate from 13 MCPSS high schools. Though their senior year was far from ordinary, their smiles, and even their tears of joy, were a great reminder of why we – as educators, and as parents – do everything within our power to help our children learn and become successful.
As we mark this week as the last week of the 2020-21 school year, I want to share with you some wise words from one of our valedictorians: "Tough times never last," she quoted Robert H. Schuller, "but tough people do." This has been one tough year, but together as #TeamMCPSS, we made it through a worldwide pandemic and two hurricanes. As I witnessed those seniors walking across the stage in triumph, I was reminded of the many, many triumphs I was fortunate to see in classrooms throughout the county and throughout this year. Our teachers, our students, our parents, and all of our MCPSS employees stretched their limits, exercised their creativity and ingenuity, and proved that even after this pandemic is long gone, we are strong enough and tough enough to do hard things.
I would like to thank you, once again, for the patience and flexibility you practiced throughout the year, as our school calendar and even our methods of teaching and learning changed. I want to thank you for complying with all of our new rules – mask wearing, social distancing and the limiting of visitors to our campuses, even if you did not agree with them.
I am looking forward to next year being a much more normal year as this pandemic seems to be nearing its end.
Here are a couple of important reminders:
- If you have not yet turned in your school-issued device, please take it back to your school immediately.
- Be sure to register your child for the 2021-22 school year on
mcpss.com
by May 28 so we can begin making our plans for August.
- The first day of the 2021-22 school year is Wednesday, August 11. The full calendar is available on
mcpss.com.
I will say again that I am looking forward to this being a much more normal year. I, and your school, will share information with you as we finalize plans over the summer.
- Masks will not be required for the start of the 2021-2022 school year. However, they are optional for those who prefer to continue wearing masks.
- Students will have two enrollment options in August: To attend their zoned or assigned school in-person or, if they are in middle or high school, to enroll in the MCPSS Academy of Virtual Learning. Enrollment in the virtual school is limited and can be completed at
mcpss.com.
In closing, I would like to leave you with another thought from one of our valedictorians. He quoted a story he heard on the radio in which the host wished her listeners a "meaningful" week. He admitted that he did not know exactly how to take that, as he was more accustomed to being told to have a "good," a "great", or even an "amazing" day or week. "A good week is easy to have, as long as something good happens," he said. But to have a "meaningful" week, you have to change your perspective a bit.
It is my hope that as we all look back on the 2020-21 school year, we find that it was "meaningful." I hope that we will remember all of the hard work and dedication that
#TeamMCPSS
exhibited. I hope that we will remember that we came together as a community and did our part to continue educating our children during a very tough time. I also hope that we will remember those small moments – those encouraging words from a teacher or a classmate or a coworker; that hard-earned A or B; that completed pass into the end-zone; or the melody that came together during a concert – that got us through it.
You did it. We made it. I am proud of you. Now, I hope you have a safe and "meaningful" summer.
Sincerely,
Chresal D. Threadgill
Superintendent
Mobile County Public Schools