MCPSS athletes participate in Concussion Awareness Program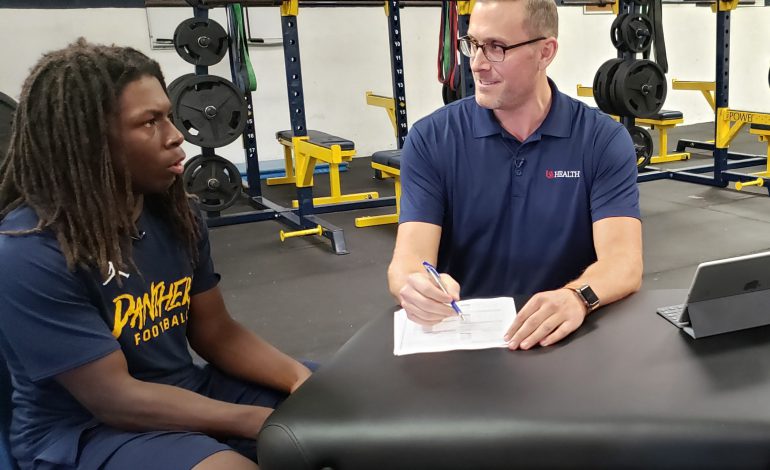 ---
Six Mobile County Public Schools high schools are participating in the Concussion Awareness Program, which is designed to decrease the number of missed concussions and to decrease the recovery time for players.
"This is an opportunity for our school system to partner with USA Health and the United States Sports Academy to be proactive," said Mobile County Public Schools' Athletic Director Brad Lowell. "This creates more concussion awareness for our parents and players. It gives our athletes the opportunity to get the baseline tests so that if an injury occurs, we can use the data during recovery."
Dr. James Toldi, a sports family medicine physician at USA Health and assistant professor of family medicine at the University of South Alabama College of Medicine, has examined athletes and conducted cognitive and physical assessments that can be used after an injury to determine whether there is a concussion.
According to Toldi, a concussion is when the brain hits the skull, adding that it can be a short-lived injury that is self-resolving. However, the aftermath of a concussion could lead to more serious issues. "Post-concussion symptoms can last months or years," Toldi said. "Some research shows repetitive head trauma or concussions can lead to health problems such as memory loss, mood changes and chronic headaches."
The United States Sports Academy is assisting in the cognitive testing portion.
"The program has grown to also include preseason concussion baseline testing, on-field assessment tools for athletic trainers and a concussion clinic for athletes to be evaluated," said Brandon Spradley, chair of sports management with the Sports Academy.
Two tests are used to diagnose a concussion from the sidelines leading to the quick removal of an athlete from a game.
"We chose the Sideline Concussion Assessment Tool 5 (SCAT5), which measures cognitive and physical changes and the King-Devick test, which measures eye movement and vision," said Toldi. "The added bonus of the King-Devick test is that it has been validated when the test administrator is a medical professional or a lay person (coach, parent, athletic trainer) that is on the sideline. We could educate the athletic trainers on how to properly administer these tests without a physician required to be there."
The participating schools so far are Baker, Blount, LeFlore, Murphy, Vigor and Williamson high schools.
Toldi hopes to expand to more schools in Mobile and Baldwin counties and the surrounding area. "Arming trainers with the access to these tests and how to perform them is a powerful tool that could limit further injury and create a safer environment for athletes."