An update on the end of the 2020-21 school year and a look ahead to 2021-22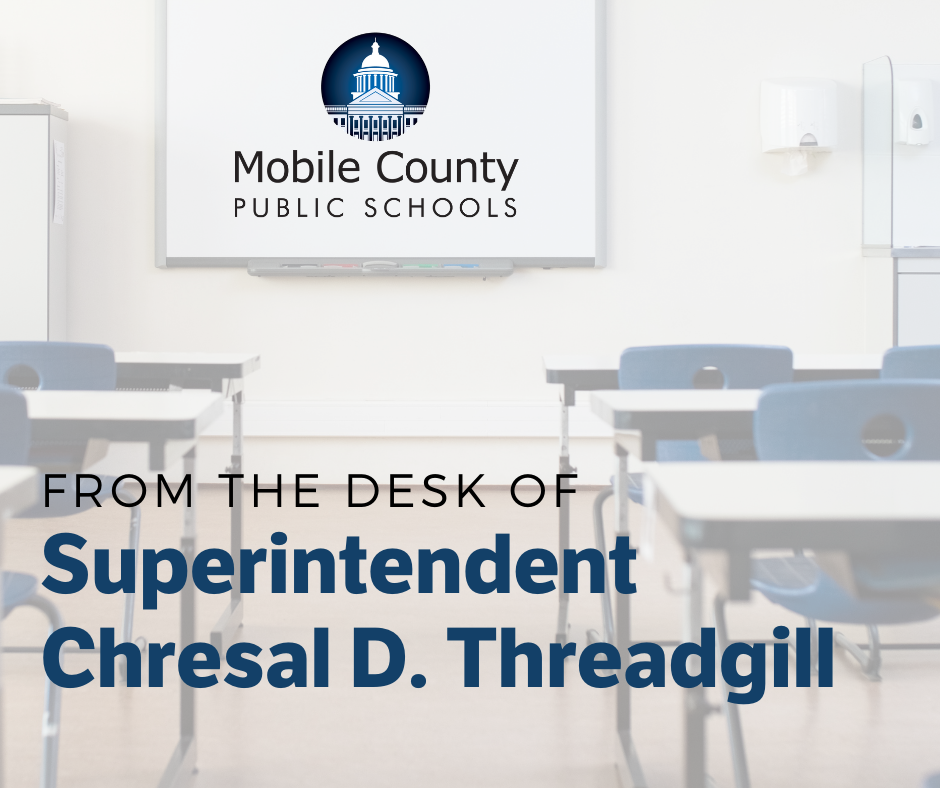 ---
MCPSS Parents and Guardians,
First and foremost, I would like to thank you for everything you have done as #TeamMCPSS to get us through this challenging school year. It is hard to believe that we only have three and a half weeks left in this school year! I want to encourage every student, parent and employee to finish out the 2020-21 school year strong. Below is some important information that I would like to share with you.
The last day of school will be on Wednesday, May 26, which will be considered a half-day as each school will dismiss three hours early.
Our official calendar for the 2021-22 school year has been approved. The first day of school for students will be Wednesday, August 11. I am looking forward to next year as it will look and feel more like a normal school year, pre-COVID. We anticipate that more than 95 percent of our students will be back in our classrooms for in-person learning. Our teachers will no longer teach to students in their classrooms while simultaneously teaching to remote students. Instead, students in grades 7-12 who wish to continue learning from home MUST enroll in MCPSS Academy of Virtual Learning.
I am very excited to announce that Mobile County Public Schools will officially be a 1:1 district for the upcoming year. This means that we will provide each student with a Chromebook for the 2021-2022 school year and beyond. It has long been the goal of MCPSS to become a 1:1 district. By becoming a 1:1 district, we will be able to provide equitable access to the most modern technologies to ALL of our students. These Chromebooks will enhance – not replace - traditional classroom learning experiences. Students will collaborate with their classmates on projects and engage in real-world problem-solving activities. These devices will enable teachers to encourage student innovation and creativity in an ever-changing, globalized society. As a result, I believe that our students will continue to become critical thinkers, effective communicators, problem solvers and responsible digital citizens. This initiative will enhance the overall school experience and generate enthusiasm among our students as I am sure they will impress you, as their parents, with what they will be able to accomplish.
Mobile County Public Schools will be offering two programs this summer to assist our students with any learning loss they may have experienced as a result of the pandemic. In June, will host literacy camps for students in kindergarten through third grade. During the month of July, we will host Fifth Quarter for students who have failed a course. Information will be sent from each school detailing the programs for the students who are eligible to attend.
Finally, I would like to thank you for supporting my decision to keep the district-wide face mask requirement for the remainder of the school year as a way to protect our students and employees. As many of you are probably already aware, the CDC has relaxed some of its COVID-19 restrictions. With the change of the guidelines and with the percentage of adults who are vaccinated, we are now able to begin relaxing some of the strenuous guidelines within our schools. While we will continue wearing masks for the remainder of the 2020-2021 school year, the wearing of masks is now optional during outside activities. When indoors, masks should continue to be worn. Additionally, we will continue to strictly enforce 3 feet of social distancing at all times, as the CDC now recommends.
We greatly appreciate your support of our efforts to protect the health and well-being of our employees, students, and their families. Let's finish the school year strong as
#TeamMCPSS
.
Sincerely,
Chresal D. Threadgill
Superintendent
Mobile County Public Schools