Baker wins national Hi-Q competition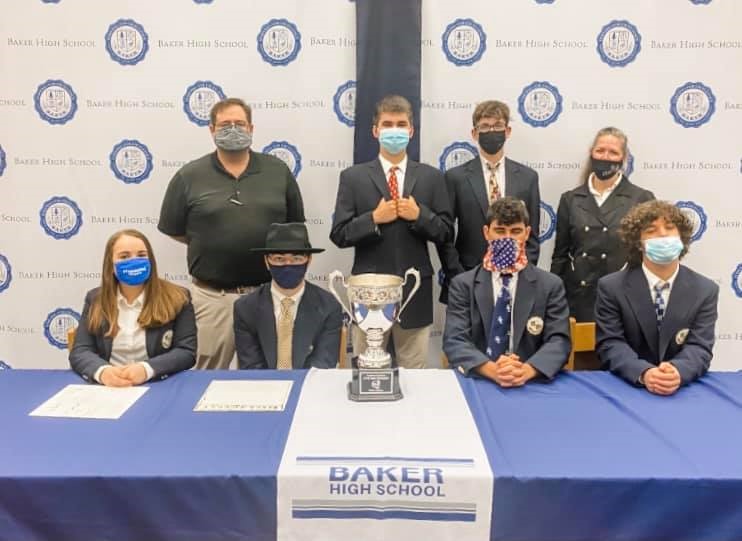 ---
A team from Baker High School won the 2021 national Hi-Q competition, defeating teams from schools in Pennsylvania and Washington.
The team is comprised of Mark Bolton, Brenna Cagle, Brandt Cannon, Cade Jordan, Will McCurley and Will Simm and is led by sponsors Tonya Parker and Joseph Lee. Baker won the Mobile County Hi-Q championship for the second straight year, competing remotely instead of in person due to COVID-19 precautions. They did not get an opportunity to compete in the national event last year due to the pandemic, before winning the event (also conducted virtually) by 1 point this year.
Baker scored 50 points to edge past Delaware County Christian School (Pa.), which scored 49 and Marysville-Getchell High School (Wash.), which scored 31. The team pulled ahead of Delaware County Christian by correctly answering a question about an ancient naval battle between Persia and Greece, and clinched the victory by correctly solving a mathematics problem.
"It feels absolutely surreal, considering all the work we put in throughout this entire year and all the challenges we've had to face, with a completely revised format though the COVID pandemic," said McCurley, the team's captain.
Joining the team at each of its competitions was its good luck charm, a Minute Maid juice carton. Simm found the carton left abandoned in a school hallway on the way to practice one day last year. He took it to one of the academic competitions as a joke, but when Baker scored an unexpected victory in a History Bowl competition, the carton became a fixture at all their competitions -- including the national competition.
"This is their national championship," Parker said, "just like for a football team."