MCPSS Spotlight: Making lunch taste great at Burroughs Elementary is Richard Hollis' passion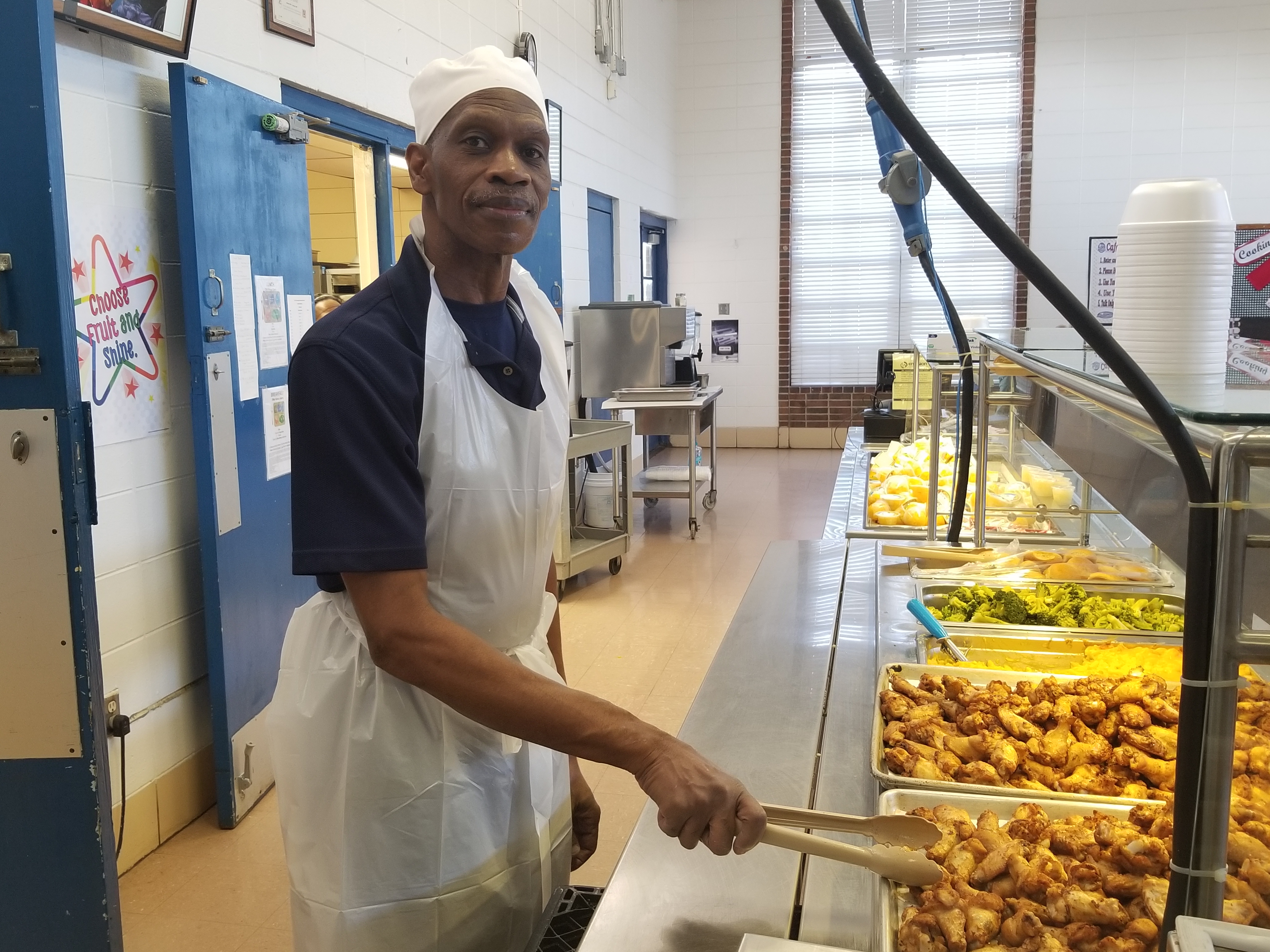 ---
Richard Hollis loves to cook. He's done it all his life, working in several restaurants, baking cakes for his church. And for the last 23 years, he's cooked for the children of Burroughs Elementary School.
"I enjoy feeding the kids," he says. "It's really been a blessing."
Hollis, who works in Burroughs' cafeteria, has also been a blessing to the school, Burroughs Principal Julia Nelson says. "He is so dedicated," she said. "He loves to cook. He loves the children. He just cares.
"Whenever he cooks, he wants to make sure we enjoy the food: 'Was that OK? How did it taste?'"
Hollis says he's always enjoyed cooking, from the time he spent watching his mother and grandmother cook as a youngster. After working in several different restaurants, he began at Burroughs as a substitute and still remembers the day he got the call to start working there full-time.
His typical day starts at 6:30 a.m., when he arrives with his fellow cafeteria workers to begin preparing for breakfast. "We work as a team," he says. After breakfast, the work immediately turns to lunch, with the first wave arriving around 10:30 a.m. When the lunch waves end a couple hours later, it's time to clean up and make sure everything's in good shape to do it all again the next day.
"He's dedicated to what he does," said Shani Clark, CNP manager at Burroughs. "He likes to make the food as presentable and tasteful as possible. He does go that extra mile on that. He puts everything he's got into it."
His specialty is the cakes he bakes for special occasions, particularly German chocolate and red velvet. He bakes them for school functions and events at his church – "sometimes he'll just bring a cake for us to eat," Nelson said. He's planning to bring a couple to Burroughs' Black History Day celebration in February.
Nelson and the teachers and students at Burroughs are happy to have Hollis back after a health scare last fall. He had open heart surgery last semester and returned in January, leaving Nelson concerned that he was rushing back too soon.
"He was worried about leaving his ladies without extra help (in the cafeteria)," Nelson said. "He was so concerned. He wanted to be back and do his part."
"We've been making him take it easy," Clark said. "I wouldn't say he's quite back to 100 percent, but he's getting there. I think he enjoys his work a lot and that really helps."
"The Lord was on my side," Hollis said. "I missed feeding the kids. I enjoy it."