Hutchens Elementary explores Colonial Days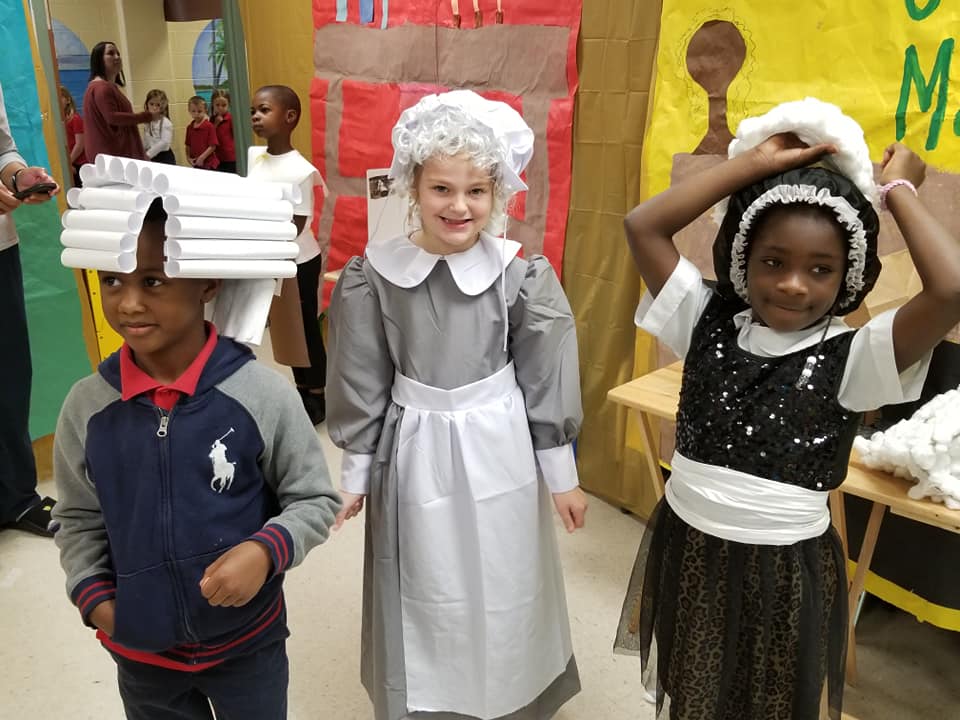 ---
"Today we are going to learn about soap," Violet Cater tell us. "See this soap? I actually made this soap. It actually looks like what the colonists made."
Cater, a second-grade student at Hutchens Elementary, proceeds to tell us why soap is important, both in terms of cleanliness and good health. It is a speech she had already shared many times on Thursday, as one of the presenters at Hutchens' Colonial Day.
Hutchens' second graders prepared booths and presentations on various aspects of life in America's colonies for the Colonial Day event and then dressed the part on Thursday, presenting what they learned to the school's first graders, kindergarteners and preschoolers.
Hutchens second-grade teacher Jan Hamilton said the idea came from discussions with parents about how to make a segment on colonial times fun and engaging for the students.
"It has really motivated our kids to want to learn and actually to want to do their job and show it to the other kids," she said. "It just kept growing and growing and growing and we have colonies all down our hall. it turned out to be something really special."
Each second grade classroom was decorated as a specific colony, and students posed as farmers, blacksmiths, schoolteachers, apothecary shopkeepers, wig makers, printers, cooks, soap makers and other occupations to share the information they'd learned with their younger classmates.
"It makes them have to know the information thoroughly," Hamilton said of letting the second graders lead the lessons. "They have to be able to tell the kindergarteners about it, so they have to know every little detail about it. Then they have to be able to explain it in a way that the kindergarteners can understand."