Students display impressive work at Mobile County Science Fair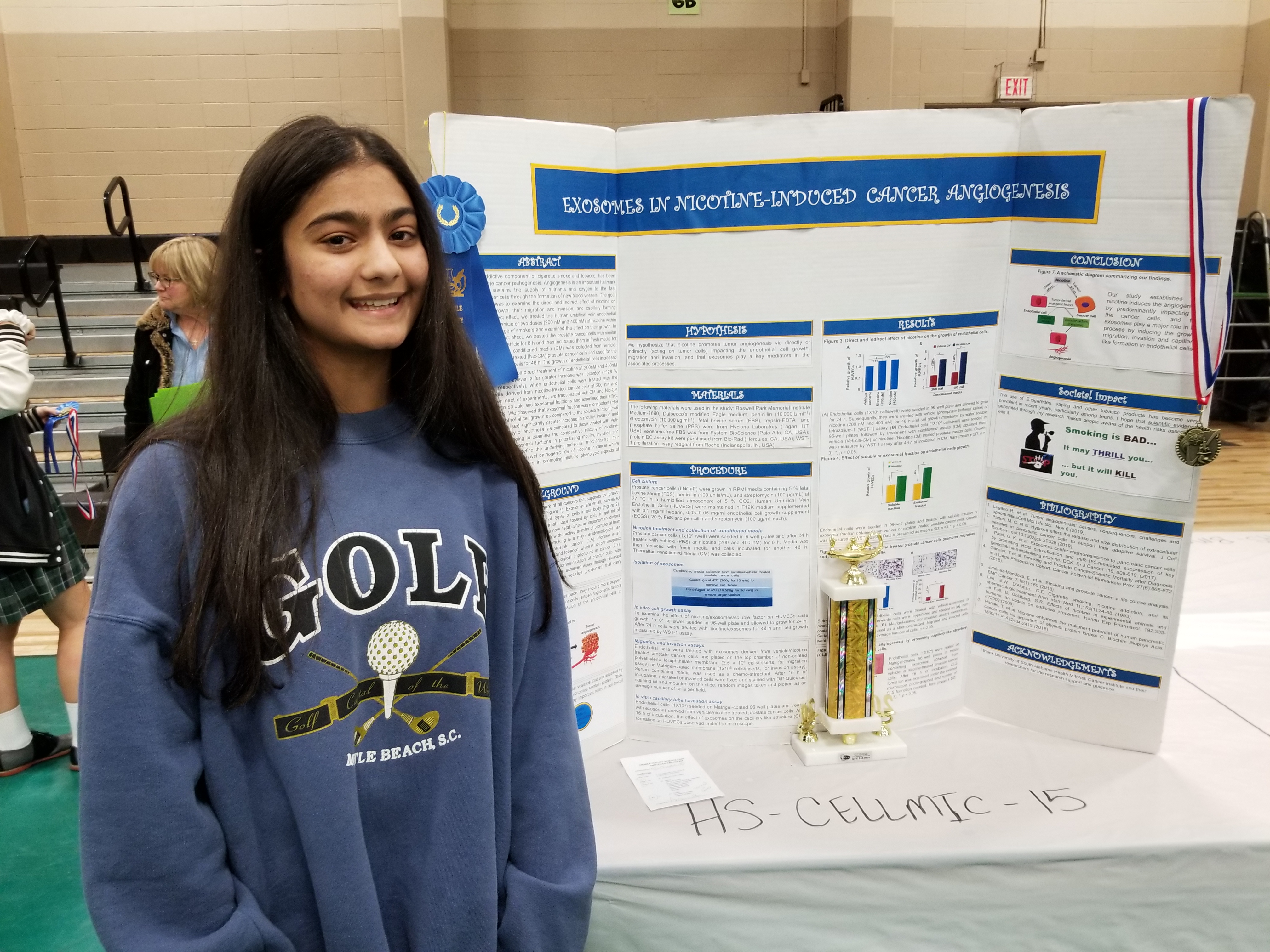 ---
How does nicotine affect cancer cells? That was the focus of the winning project in the 2020 Mobile County Science Fair held recently at Clark-Shaw School of Math, Science and Technology.
Murphy High School's Shubha Singh won top overall honors for her project: "Exosomes in nicotine-induced cancer angiogenesis." Singh said the project examines how cancer cells react when nicotine is injected into them both directly and indirectly.
"I know with a lot of kids my age, it's a growing problem that nicotine products are being used," Singh said. "I thought: What would happen if could do a project where I put nicotine in the cancer cells and see how they would react to it?"
Callie Thompson of Davidson High School took top honors in the high school division with her project: "Spectrophotometric analysis of light attenuation on pigment concentration." And Dakota Perry of Dunbar School for Creative and Performing Arts had the top middle school project: "Putting the Breaks on a Tsunami.
Perry also won the Suzanne F. Pierce Patriot Award for Middle School Excellence in Scientific Investigation for her project. Other special awards went to Phillips Preparatory's Elizabeth Chester, who won the Bramuchi Fay Horizon Award for Most Promising Sixth Grade Project, and Davidson's Samantha Oyler, who won the Dr. Louis Buckalew Award for Excellence in Behavioral Science.
High School category winners:
Animal Science: 1. Charity King, Murphy; 2. Gracie Toler, Murphy
Behavioral and Social Science: 1. Samantha Oyler, Davidson; 2. Isabelle Reimer, Murphy; 3. Samone King, Murphy; Honorable Mention: Cece Johnson, Murphy
Biomedical and Health Science: 1. Savannah Dinkel, Davidson; 2. Indya Mooney, Murphy; 4. Haleigh McFadden, Vigor
Cellular, Molecular, Microbiology: 1. Shubha Singh, Murphy; 2. Addison Allred, Murphy; 3. Dev Mehta, Davidson; Honorable Mention: Abigail Rice, Murphy
Chemistry: 1. Rachel Majumder, Davidson; 2. Maria Moxey, Davidson
Earth & Environmental Science: 1. Julianne Berte, Davidson; 2. Brennan Glazner, Murphy; 3. Zoe Edwards, Vigor
Energy – Chemical & Physical: 1. Hayden Emmertson, Davidson; 2. Sean Givens, Murphy; 3. John Boucher-Ferry, Murphy
Environmental Engineering: Honorable Mention: Dustin Brown, Mary G. Montgomery
Materials Science: 1. Jordan Hobbs, Murphy; 2. Tucker Horn, Murphy
Plant Sciences: 1. Callie Thompson, Davidson; 2. Marie Claire Don Jayawardena, Davidson
Middle School category winners:
Behavioral and Social Science: 1. Isabella DeJesus, Clark-Shaw; 2. Sofia Galvan-Guerrero, Denton; 3. Kaydee Barrera, Semmes
Botany: 1. Michael Ellzey, Clark-Shaw; 2. Lila Salano, Clark-Shaw; 3. Brandon Whitfield, Clark-Shaw; Honorable Mention: Madison Robbins, Denton
Chemistry: 1. Abigail Broughton, Phillips; 2. Liam West, Phillips; 3. Jackson Reiney, Clark-Shaw; Honorable Mention: Abigale Van den Bosch, Clark-Shaw
Engineering: 1. Madelyn McIlwain, Clark-Shaw; 2. Kyra Owens, Dunbar
Environmental Science: 1. Dakota Perry, Dunbar; 2. Shahir, Latif, Phillips; Honorable Mention: Eashan Sharma, Phillips
Math and Computer Science: Honorable Mention: Ryan Morvant, Clark-Shaw
Medicine and Health: Honorable Mention: Kahlan Smith, Clark-Shaw
Physical Science: 1. Jason Davis, Denton; 2. Beck Piper, Clark-Shaw; 3. Amiyah Smith, Dunbar; Honorable Mention: Christian Bradford, Semmes; Patricia Wells, Semmes
Zoology: 1. Presli Turner, Clark-Shaw; 2. Jasia Davidson, Clark-Shaw