An important update from Superintendent Chresal D. Threadgill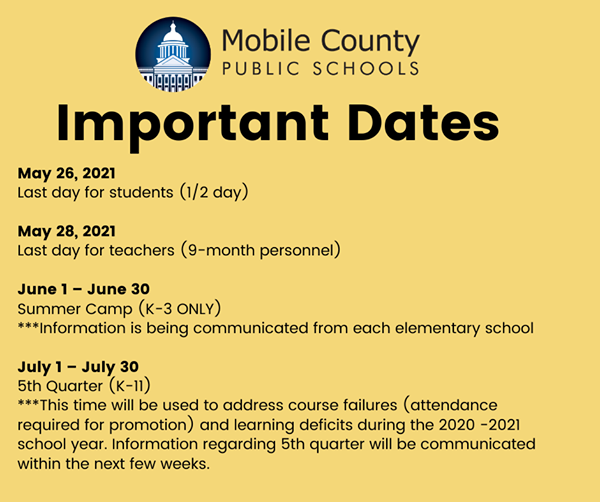 ---
FROM SUPERINTENDENT CHRESAL D. THREADGILL
As we approach fourth quarter and begin planning for the end of the 2020 – 2021 school year, I would like to communicate some pertinent information.
The last day of school for the 2020 – 2021 school year for students will be May 26, 2021.
The district calendar for the 2021-2022 school year has not been approved by the board for release. However, we are planning to return to a normal school calendar for the upcoming year. We are looking forward to having all students return to face-to-face learning in our schools with the start of the new school year in August. The remote learning option will remain in place for the duration of the 2020 - 2021 school year. However, for the upcoming school year, all students will return for face-to-face instruction unless otherwise enrolled in our Mobile Academy of Virtual Learning. If you would like more information on our virtual academy for the 2021-2022 year, please contact Dr. Melody Tucker at mtucker@mcpss.com.
As you are aware, testing season is upon us. Our 2nd – 8th grade students will be taking the state-mandated ACAP Summative Assessment throughout March and April. The state requires that ALL students participate in the assessment. It is very important for students in grades 2 – 8 to participate in this assessment. We ask that parents of remote students work collaboratively with their schools in the scheduling of on-campus testing.
We have almost completed another successful year at MCPSS despite all of the challenges we experienced throughout the year. As always, thanks for your continued support and a special thanks to #TEAMMCPSS for the job they do each and every day!