Four standout students chosen as 2023 Learning Leading Award winners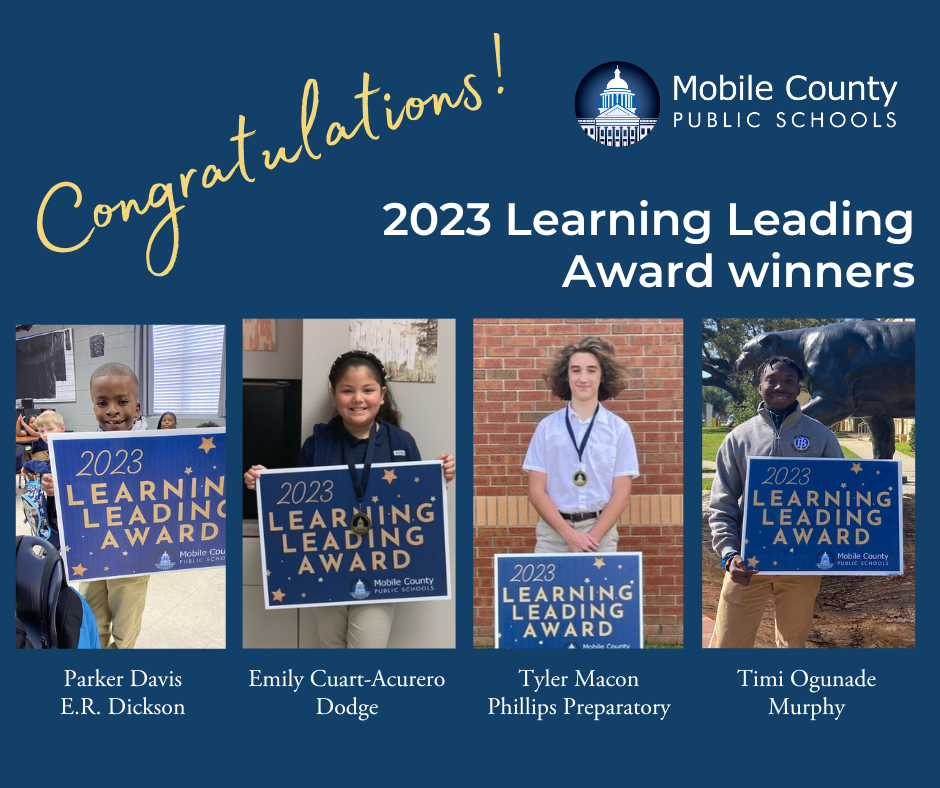 ---
MCPSS is pleased to announce the district-level Learning Leading Award winners for the 2022-2023 school year: Parker Davis of E.R. Dickson Elementary School, Emily Cuart-Acurero of Dodge Elementary School, Tyler Macon of Phillips Preparatory School, and Timi Ogunade of Murphy High School.
Each of our 90 schools selected a Learning Leading student representative. These students all have a few things in common: They are kind, they go out of their way to help others, they are unique and talented, and they have the utmost character and integrity to represent their schools with honor. After receiving information on all the school representatives, a committee led by the Communication Department reviewed information about all the extraordinary students, and selected the best of the best to be the district-level award winners:

Parker Davis, a second-grader at E.R. Dickson Elementary School, was selected because of his incredible leadership skills in teaching his peers about empathy and inclusion. When other children noticed that his mouth is formed differently due to a cleft palate, instead of feeling ashamed or "less-than," Parker took the opportunity to teach his peers about cleft palates, so they could support him and others with this condition, rather than exclude or ostracize them. His presentation was so successful that he decided to present it to all grades at Dickson. A school leader remarked to Parker's classmates that they are all special and extraordinary in their own ways. His classmates were quick to appreciate the compliment, but stated that Parker is the most amazing student and truly deserving of this award, over and beyond anyone else in their school.

Emily Cuart-Acurero, a fifth-grader at Dodge Elementary School, moved here with her family from Venezuela just over a year ago, and is already fluent in English. She is a very special child who can be relied on to accurately translate Spanish and English, which helps many students and adults in her school who have language barriers. While MCPSS has a dedicated English Language department that is available to provide translation services in many languages, it is wonderful to have someone in a school who can translate when a situation quickly arises. Emily is a trusted helper at Dodge, and an invaluable member of her school community. She is on the school's archery team and is organizing a book drive at Dodge. She has also developed a love of piano and takes virtual lessons twice a week.
Tyler Macon, an eighth-grader in the International Baccalaureate program at Phillips Preparatory School, is captain of the Scholars Bowl Team and won two top awards in the Alabama History Day state competition. He has received academic honors for excellence in math, civics and world geography, and was selected as a Top 10 IB Learner Student of the Year. He and two of his classmates and fellow Boy Scouts created a web page to highlight issues of redlining and other unfair housing practices in our community. His teachers describe him as respectful and kind, and a leader who strives to help other succeed. "He is mature, responsible, and caring," says Marcy Miller, Assistant Principal at Phillips.

Timi Ogunade is a senior at Murphy High School who has been accepted to Auburn University, where he will study to become a pilot. He is originally from Nigeria, arriving in the U.S. under an asylum visa, and has persevered through the sudden and tragic loss of his mother to cancer. Timi has made a tremendous impact on the Murphy community. He has a 4.97 in Murphy's International Baccalaureate program and scored a 33 on the ACT. He has won state science and math awards. He is a member of the National Honor Society and the Hi-Q Team. He is also an avid soccer player and swimmer and has improved his times in a variety of swim races, including the 50 freestyle and the 100 freestyle. According to Murphy Principal Ed Sanderson, Timi was chosen as the school's Learning Leading Award winner because he is "an incredible athlete, student and human. He will change the world. He will continue to positively impact all of those lucky enough to know him."