Teachers ready for 2019-20 school year after inspirational Teachers Institute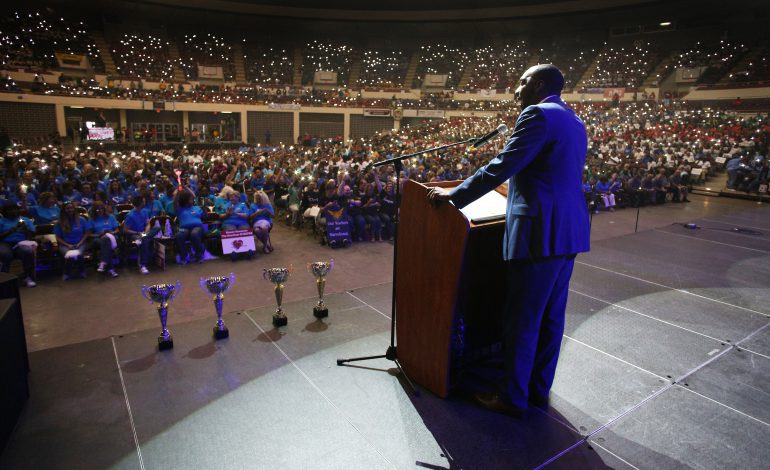 ---
With classes set to begin on Tuesday, Mobile County Public Schools' teachers received some words of encouragement and inspiration, as well as some beautiful songs and performances, at the second Teachers Institute on Friday at the Mobile Civic Center.
"This is not a career. This is a calling," motivational speaker Ole Pete Key told the teachers and employees from MCPSS' 88 schools and Central Campus. "You're not doing this to make money. They can't pay you enough money to do it. There has to be something on the inside of you that says: I'm supposed to do this."
Among the performers were singers Rod Stokes and Kirk Jay, local natives who have each competed on NBC's The Voice; the Hutchens Cardinal Chorus; the Eichold-Mertz ballerinas; and the Dunbar Fusion Dance Company. The winners of the spirit competition were Collier Elementary, Grand Bay Middle School, Blount High School and the Student Support Services department.
Mobile Mayor Sandy Stimpson was on hand to offer words of encouragement.
"This is the first time I've ever participated in a gathering of the Mobile County Public School System like this and I truly believe this will be the best year," Stimpson said. "In your hands is the future of our homes, our city, our state and our nation, and that is a huge responsibility. I thank you from the bottom of my heart for what you teachers do day in and day out to try to give our young people hope and give them an opportunity."
Hope is what teachers give their students, Key said, recounting a teacher who set him on the right path by believing in him, and deputizing all in attendance as "Hope Dealers" for the upcoming year.
"Say it with me," he urged the crowd, "someone's destiny is tied to my assignment."
The system introduced its new slogan — Learning Today, Leading Tomorrow — and Superintendent Chresal Threadgill challenged the teachers and employees to understand that they are all one team, and to tell our their own story — "to let the world know we are creating greatness."
"We shouldn't allow other people to define who we are," he said. "We have a lot of great things going on in this system, and the world needs to know that. It takes all of us moving in the same direction and to tell our story."