Plans announced for The Miracle League of West Mobile: Schmidt Family Park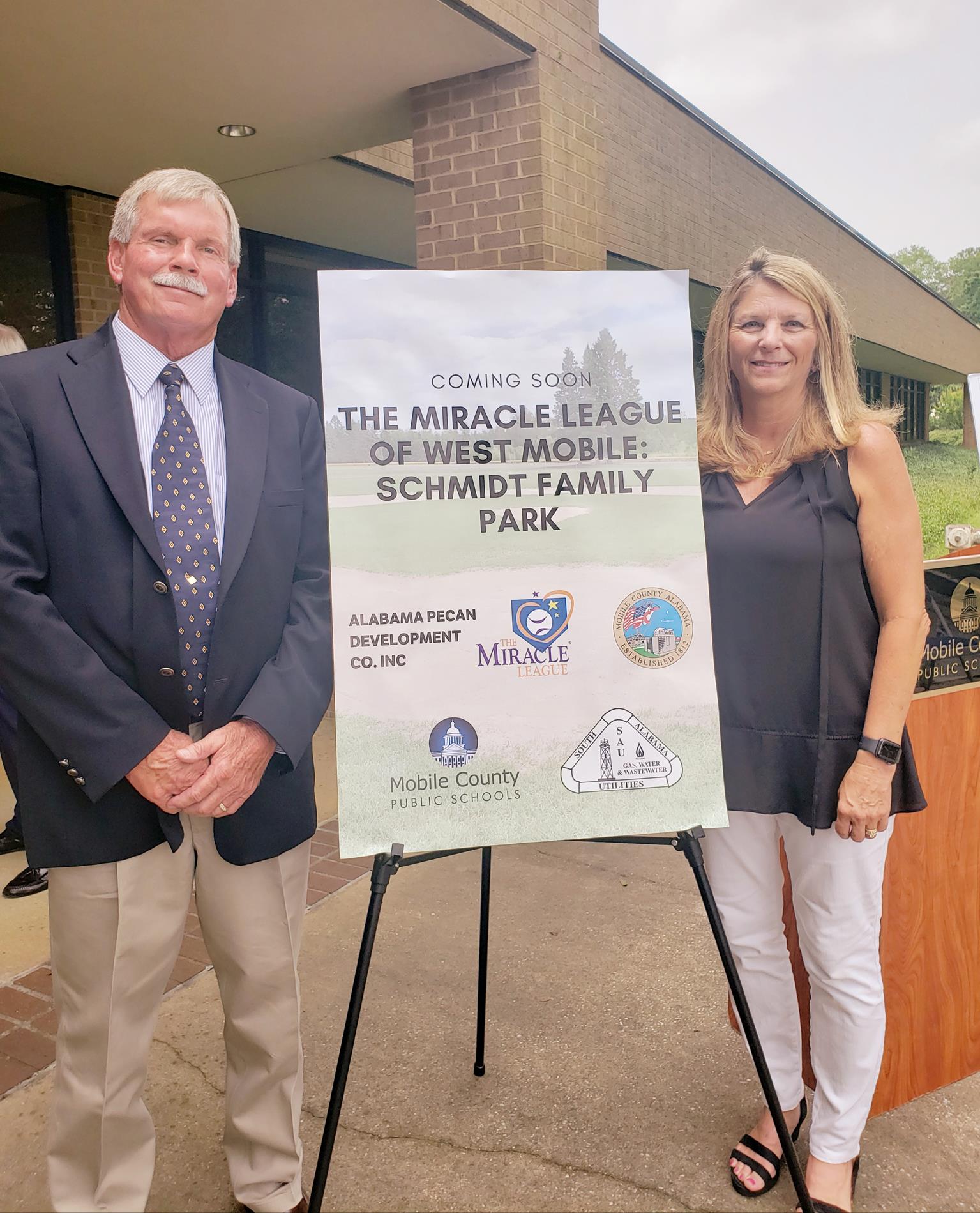 ---
Community leaders announced a plan Thursday to build a baseball field and playground in west Mobile for children with special needs.
The Miracle League of West Mobile: Schmidt Family Park will be constructed on Johnson Road, about two miles southwest of the intersection of Airport Boulevard and Snow Road. The baseball field will feature a synthetic rubberized turf that accommodates wheelchairs and other assistive devices while helping to prevent injuries. The field will have double-wide lanes, allowing the players more space as they round the bases.
The park will also include a regular baseball field for children who are middle-school-aged. The hope is to one day build a school on the site to serve special-needs and autistic students.
Several community organizations have already stepped up to the plate, donating land, providing funds to pave the road, and more. The key players thus far are: the Alabama Pecan Development Company, Inc., Schmidt-Barton Family Fund, South Alabama Utilities, Mobile County Public Schools and the Mobile County Commission.
The Alabama Pecan Development Company, Inc., has donated more than 24 acres to the project and South Alabama Utilities has donated more than 4 acres.
The Schmidt-Barton Family Fund has pledged to give up to $1 million in matching funds toward the estimated $3.2 million in construction costs.
The Schmidt family released the following statement: "Alabama Pecan Development Company, Inc., and the Schmidt family are excited to be part of this project. Our grandfather, William Edward Schmidt, believed in Mobile, Alabama, its people and its potential. The new school, the Miracle League park, and the special-needs playground would make William Edward Schmidt proud."
Donations are now being accepted at mcpss.com/miracleleague to cover the remaining costs associated with the park.
Besides the two ball fields and the playground, the park will also include a concession/restroom building and parking areas.
South Alabama Utilities released the following statement: "South Alabama Utilities is thankful for the opportunity to be part of such a wonderful endeavor as the Miracle League field and playground. Our board of directors and management team consider it a privilege to be able to give back to our community in this way. We are proud to partner with others as we see this park come to fruition."
Mobile County Public Schools is managing the construction in accordance to specifications approved by The Miracle League, LLC, which has worked with local organizations to build 240 similar fields across the country. The school system will operate the park once it is complete.
"We are excited to be able to participate in this project that is going to bring so much joy to children in Mobile County," said Mobile County Public Schools Superintendent Chresal D. Threadgill. "This has truly been a community collaboration. We look forward to the day that we will see all of this hard work result in children with special-needs being able to do what every child deserves to be able to do. That is, to play."
Mobile County Commissioner Jerry Carl will be allocating about $500,000 from the District 3 Capital Improvement Funds to pave the road leading to the park.
"We are very excited to be a part of this project," said Carl, President of the Mobile County Commission. "It's such a great combined effort between the private sector, the county and the local school system.
"Miracle League is definitely needed in our area. It's a unique concept, and people are going to love coming to this park."
Civil Engineer Mikell Speaks with Speaks & Associates, Consulting Engineers, Inc., will design the project.
The Miracle League removes barriers that keep children with mental and physical disabilities off the baseball field and lets them experience the joy of America's favorite pastime. But it's more than playing a game. The Miracle League is about making new friends, building self-esteem and being treated just like other athletes.
To help the athletes, the Miracle League uses a "buddy" system – pairing each player with an able-bodied peer. The Miracle League serves children and adults who suffer from any physical or mental disability that causes them to be excluded – whether intentionally or not – from conventional baseball leagues.
Miracle League fields across the United States and in Puerto Rico and Canada serve more than 200,000 children and adults. This will be the first Miracle League field in Mobile County.