MCPSS Transportation Department earns top maintenance honor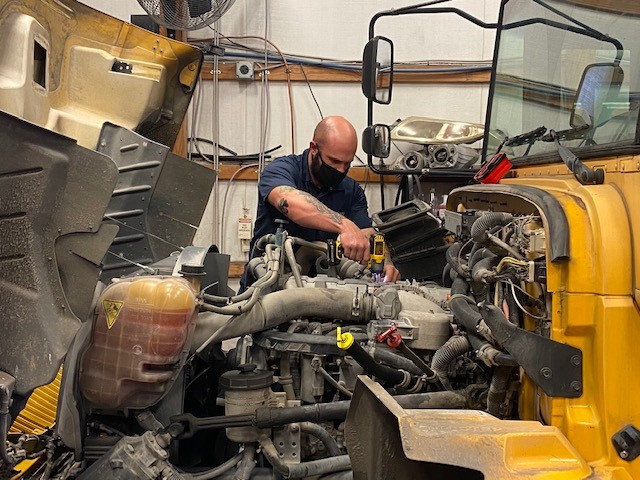 ---
The MCPSS Transportation Department was recently honored for its excellent work in maintaining the system's bus fleet. The department received a Certificate of Achievement from the Alabama Department of Education for exemplary school bus inspections.
"Our team of dedicated mechanics work hard to ensure our students are transported safely every day," MCPSS Director of Transportation Pat Mitchell said. "I cannot say enough how much I appreciate their hard work."
The Transportation Department employs 33 mechanics who service a fleet of about 750 buses. These buses cover over 600 routes and run approximately 7.7 million miles annually.
Pictured in the slideshow below are mechanics and other maintenance personnel at the Transportation Department's different sites:
At the main MCPSS Transportation shop: Don Davis, Ray Anderson, Kyle Durant, Josh Majors, Mike Singleton, Lewis Kirksey, Dorothy Perkins, James Burnham, Kenney Smith, Thomas Manzie, Eddie Brown and Kiara Gaston.
At Howell's Ferry: Derrick Rowe, Paige Roberts, Doug Powe, Thomas Ridderbjelke, Steve Stringfellow, Kyle Bosarge, Cylister Rivers, Alfred Slater and James Patterson. (Not pictured: Emile Knight, Braxton Akridge, William Law, Tamara Coleman and Leemarr McFarland.)
At Hall's Mill: Tim Fairley, Joe Hunter, Latasha Cameron, Jerome Toomer and Shenell Agnew.
At Whistler: Vernon Ash, Chad Stringfellow, Harris Agee, Lou Mothershead and Irrie McNeil.
At Padgett Switch: DeAntonio Reed, Lydia Boyd, Robert Halbrook, Robert Wayman, Arzie Berry, Matt Lyons, Rod Williams and Brian Still.
At Citronelle: Dustin Lindeen, LaSherika Cowan and Greg Gaines.