Worlds of Opportunity offers look at potential careers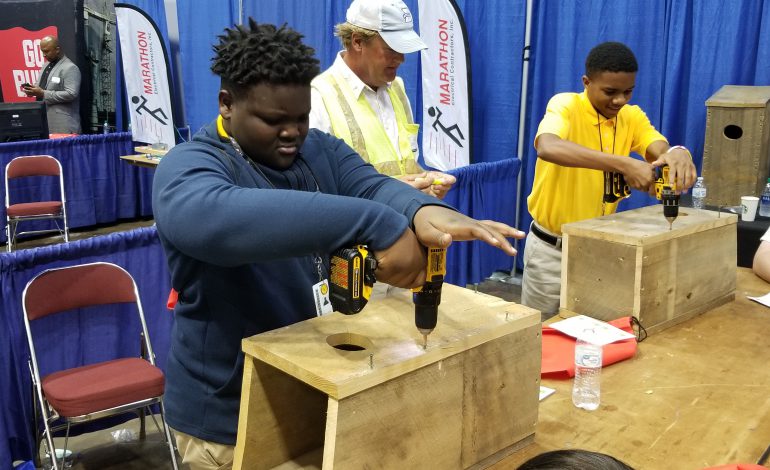 ---
Dewayne Lockett-James was interested in computer technology and manufacturing. Charleston Webb wanted to find out about aerospace and aviation.
These two Phillips Prep students were among thousands of eighth-graders from Mobile, Baldwin and Washington Counties who learned about those and other career opportunities in the Mobile area this week at the Worlds of Opportunity career expo at the Mobile Civic Center.
"The Worlds of Opportunity career expo shows students what's available in our region — which kinds of jobs, and what they need to do to get one of those great jobs," said Larry Mouton, Mobile County Public Schools Assistant Superintendent for Workforce Development. "We've got business and industry partners here from every area, from hospitality, welding, engineering, any career you're looking for, right here. All the students have to do is visit, have a conversation, and get on that pathway toward success."
Other industries represented at the expo included aviation, shipbuilding, utilities, chemicals and construction. Students got some hands-on instruction, as well, as they tried a welding simulator, used hammers and drills, and found out how to make slime. And this year, an extra two-hour event was added for high school students called WOO Varsity.
"They actually love it," said Michael Brantley of Alabama Power, who was showing students how linemen work around power lines. "They're pretty enthusiastic about having a career. … This is one way. When you learn the trade, you can come and work for Alabama Power."
While eighth-graders aren't quite ready to enter the workforce just yet, learning about potential careers can help them decide which career-focused pathways they may want to pursue in high school next year.
"It gives me a bunch of information on jobs that I might want to do when I'm older, and see want to do in high school," Webb said.
"This kind of helps me to be more knowledgeable about what I want to be in life," added Lockett-James.
The Worlds of Opportunity event is a project of the Southwest Alabama Workforce Development Council and MCPSS Career Technical Education.