MCPSS honors 2022 Learning Leading Award winners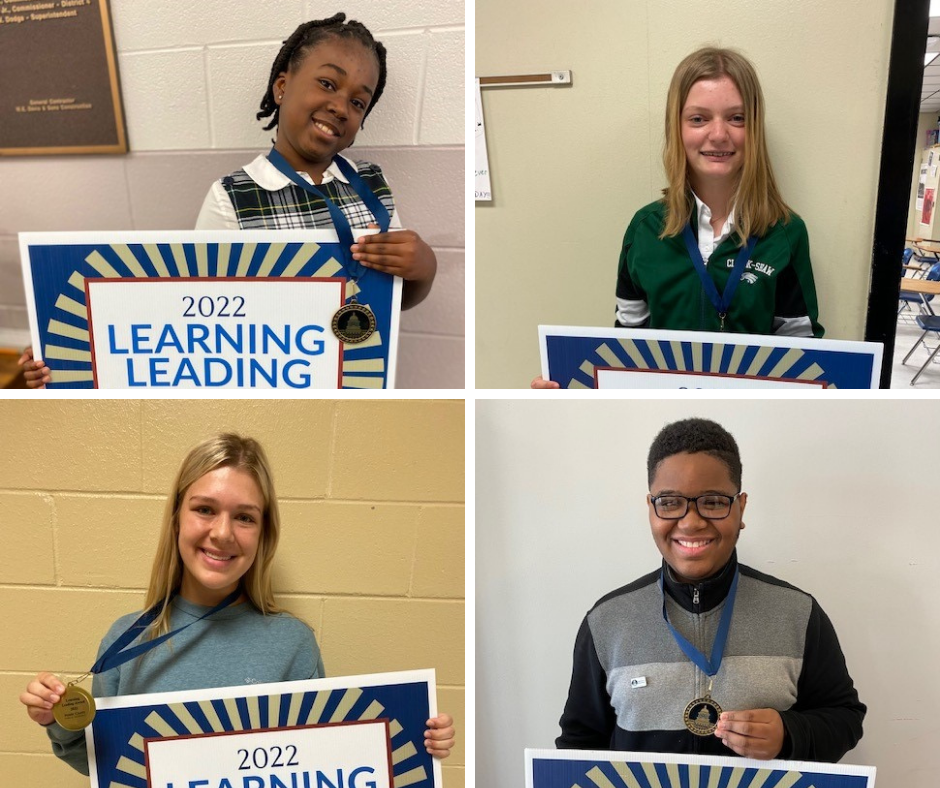 ---
Mobile County Public Schools recently recognized four outstanding students as its 2022 Learning Leading Award winners. These students have displayed strong academics in the classroom, a wide range of extracurricular activities, and a passion for serving their communities.

They are: Abbigail Davis of Dodge Elementary School; Madeline Borchert of Clark-Shaw School of Math, Science and Technology; Jordan Guyton of B.C. Rain High School and Marissa Wilson of Citronelle High School.
Below is some information about each winner. They will be honored during the annual Learning Leading Awards, which will be held virtually later this spring.
Abbigail Davis, Dodge Elementary School

Davis is a member of Dodge's Student Council, the National Elementary Honor Society, and the school's broadcasting, robotics and archery teams. She's been involved in several donation drives, such as Stuff the Bus, the Thanksgiving canned food drive, collecting can tabs for the Ronald McDonald House, and making food to serve community members in need through her girl scout troop. She also reads to kindergarten students at Dodge and is active in her church, singing in the Children's Choir and performing in a praise dance group called Baby Angels. She wants to continue her community service in the future, with plans for the creation of a recycling program at school and a service project to provide school supplies for classmates who need extra assistance.
Madeline Borchert, Clark-Shaw School of Math, Science & Technology

Borchert is active in a variety of capacities at Clark-Shaw. She's president of the schools' National Junior Honor Society chapter, and is a member of the school's ambassadors, Student Council, Millionaire's Club (for reading over 1 million words), and Scholars Bowl and Science Bowl teams. She won the schoolwide science fair in the chemistry category this year and finished second in the school spelling bee. She plays tennis as an eighth-grader for the Davidson High tennis team, and was the Gulf Coast Junior Team tennis champion in 2021. She is also active in community service through her girl scout troop, NJHS and Student Council, participating in Stuff the Bus and a Thanksgiving food drive for Feeding the Gulf Coast.
Jordan Guyton, B.C. Rain High School

Guyton is an A-B Honor Roll student, a school ambassador, a member of B.C. Rain's Scholars Bowl and Hi-Q teams, a section leader in the Rain Choral Department and a member of the Superintendent's Student Advisory Council. He received a Superior rating at the Alabama Vocal Association Solo and Ensemble Adjudication and was selected for the 2022 Alabama All-State Choir. He is a lead musician at Mt. Zion Missionary Baptist Church and is a published author. His last book, entitled "Black Queen," honors the life and legacy of his great-grandmother.
Marissa Wilson, Citronelle High School

Wilson has maintained A Honor Roll status since kindergarten and is currently ranked first in her class. A well-rounded athlete, she is captain of Citronelle's cheerleading squad and a member of the softball and bowling teams. She's served as a member of the Student Council, Citronelle's National Honor Society chapter, CHS GEMS, and as secretary of Citronelle's National Spanish Honor Society. She has coached little league cheerleading, volunteered at the city league concession stand, worked in a community clean-up project, helped with food pantry collection and donation deliveries, worked as part of a Vacation Bible School team and as a greeter at Restoration Church.
Davis, Borchert, Guyton and Wilson are pictured below, clockwise from top left.