Carey Arensberg, Cheryl Burch, David Dai named Teachers of the Year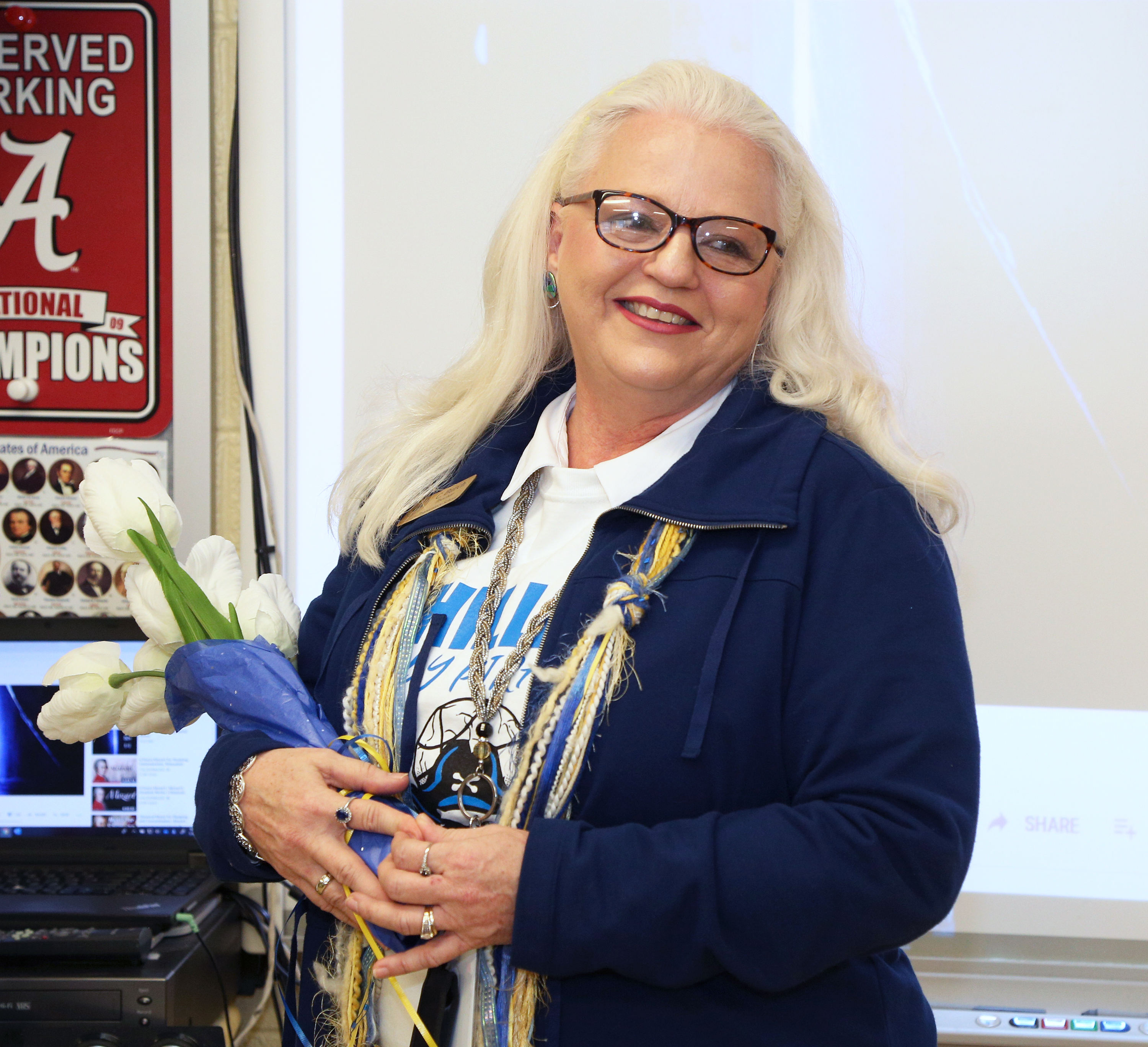 ---
Officials with Mobile County Public Schools surprised three countywide Teachers of the Year on Thursday.
They are:
n Carey Arensberg of George Hall Elementary as the Mobile County Elementary Teacher of the Year
n Cheryl Burch of Phillips Preparatory as the Mobile County Middle School Teacher of the Year
n David Dai of Bryant High as the Mobile County High School Teacher of the Year.
Carey Arensberg
Carey Arensberg is a fifth-grade teacher at George Hall Elementary in Mobile's Maysville Community. She is a true leader at the school, with one of her initiatives being to encourage other staff members to mentor students as "bigs" through Big Brothers/Big Sisters of South Alabama. She has kept in touch with her "littles," using her planning period once per week to visit them in their middle and high schools. She believes that having long-term, positive relationships with students will help them be successful.
Among Arensberg's many leadership roles at the school are: School Leadership Team, Grade Level Chair, Science Lead Teacher, Social Studies Lead Teacher, Transformational Team, and Digital Literacy Team Leader. She serves as a mentor teacher to University of South Alabama education students. She has received several awards and grants, including being the Junior League of Mobile's Adopt-a-School Recipient, being featured on al.com for her innovative classroom design, and being featured by Curriculum Associates for iReady diagnostic celebration ideas.
She has combined her love of science, her curiosity about the world around her, and her love for children into what has turned out to be her dream career as a teacher. She has made it her mission to reach children academically as well as by making lasting connections that she hopes will carry over through middle and high school. She includes time in her classroom for students to write about their experiences and struggles. She has earned several grants, including one that allowed her to redesign her classroom with different types of seating to keep the students engaged. This has helped them academically.
Arensberg graduated from the University of South Alabama in 2012 with a bachelor's degree; and she is currently working on her master's degree in educational leadership from Concordia University.
Cheryl Burch
Cheryl Burch is a business education and social studies teacher at Phillips Preparatory School, a magnet middle school in midtown Mobile. She also coordinates the school's after-school program, and she has been the adviser of many clubs during her 20 years of teaching.
Burch spent 10 years in the business world, including working as the credit manager for a multi-million-dollar company, before she decided "something was missing" and went into teaching. She has since found her passion.
Her lesson plans focus on helping her students see the link between the formation of the earliest civilizations and current world events. She interacts with her students in creative ways, often dressing as characters from the time period they are studying. She wants her students to become immersed in history, not just memorize it. She has four simple rules for each student: think for yourself, know your facts, examine all sides of an issue, and never be afraid to express your opinion.
She sponsors Phillips' National History Day program, which is a competition. Her students have won statewide and national awards for their History Day projects. She has been named a National History Day Master Teacher, through which she has conducted training workshops for other history teachers.
Burch has earned a bachelor's degree from Spring Hill College, an MBA from the University of Mobile, and a master's degree in education from the University of South Alabama.
David Dai
David Dai is a math teacher at Bryant High School in Irvington. He has taught Algebra I, Geometry, Algebraic Connections, Discrete Math and ACT Math Prep. He is co-sponsor of the scholars' bowl and HiQ academic teams, the Student Government Association, and the Youth Activist Coalition. He coaches ultimate frisbee and disc golf as part of a 21st Century Community Learning Centers of Alabama grant for after-school programming.
Dai is the son of two immigrant parents from Vietnam. They spoke broken English, so by the age of seven, he was thrust into the role of translating for his parents in experiences ranging from doctor appointments to parent-teacher conferences. He grew up in Bayou La Batre and has come home to teach at Bryant High School so he can give back to his community and serve as a role model for other Asian students in the community.
He helped launched Bryant's "Shoot for Two" campaign to encourage students to improve their ACT scores by two points, and he also encourages students to complete community service such as food drives. Dai has led his fellow math teachers in a book study designed to improve peer collaboration and support teacher growth. He has completed multiple graduate-level research projects, including how students' language use affects test scores and how memorizing formulas can affect student exam performances in Algebra I.
Dai has a bachelor's degree in mathematics from the University of Alabama, and a master's degree in secondary education-math from the University of Alabama. He received the University of Alabama's College of Education 2019 Young Alumni Award and was named the Alabama Council of Teachers of Mathematics 2019 High School Teacher of the Year.
Selection process
Each school selects a Teacher of the Year who may apply for the countywide honor. This week, a committee including former Teachers of the Year met to review applications and select these three countywide winners. MCPSS will nominate countywide winners for the statewide honor. They will also be recognized at an upcoming board meeting and in April at the Learning Leading Awards.