MCPSS Spotlight: Orchard's Lisa Patterson goes the extra mile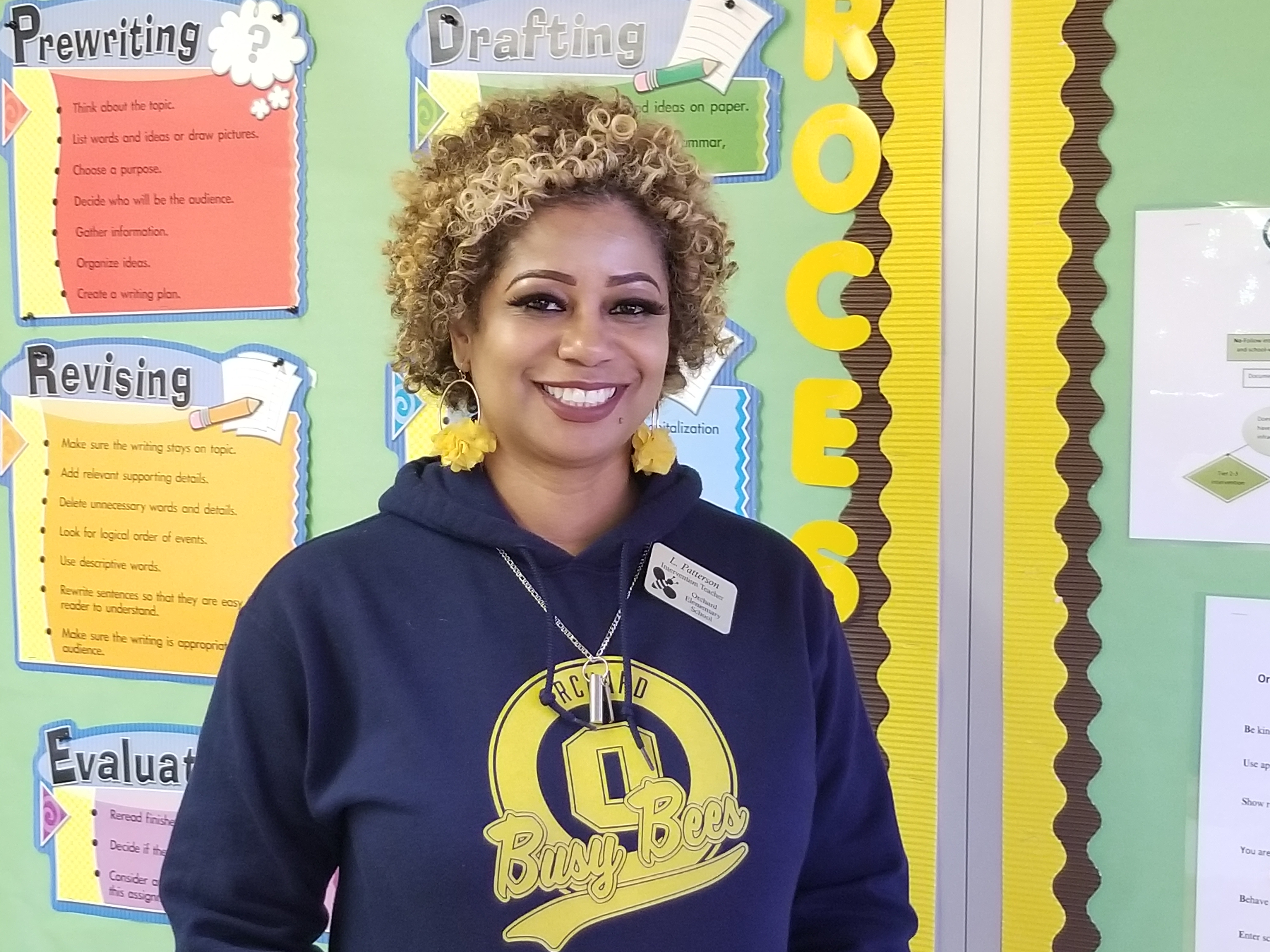 ---
She is an intervention teacher who has a track record of improving test scores. She has a passion for carpool duty who makes sure dismissal at her school goes smoothly. She frequently goes out-of-pocket to buy uniforms or supplies for students in need. And she also makes a mean sundae.
Lisa Patterson goes the extra mile at Orchard Elementary, a teacher that Principal La'Tunga Ransom-Barnes calls "just a very big-hearted person, who goes above and beyond for Orchard because she believes in our school, our students and our faculty."
Patterson has taught at Orchard for six years, serving for the last three as an intervention teacher who works with students in danger of falling behind academically and helping them catch up. She has taught at many different levels, from kindergarten up through middle school, but says students of all ages essentially need the same thing.
"Every child wants you to believe in them, no matter what age or grade level," she said. "I treated my students the same, all of them."
What's her secret to improving test scores? Patterson says it lies in understanding that each child learns differently, and finding a method that works for each.
"Some students are not auditory learners," said Patterson, who also serves as Orchard's lead teacher for tutoring. "Some people need that visual, hands-on way of learning, like me. Somebody can talk to me and tell me something all day, but I need to see it. I need to be able to watch you model it and do it for me to catch on. So you have to cater to that.
"If they say, 'this child just can't get it,' I don't adopt that theory. They may start off that way, but I know they can learn and grow."
Ensuring that each child has the opportunity to learn and grow is why Patterson occasionally goes out of her own pocket to make sure her students have the right uniform items and to keep healthy snacks in her classroom – what she calls "brain food."
"I didn't have, growing up," she said. "A lot times, I saw my parents struggle. They did the best they could do. I wouldn't change my humble beginnings for anything in the world, because that taught me to have that caring spirit that I've always had.
"How can (students) give me 100 percent if they're hungry? You can't expect them to work all day without brain food."
Patterson also has often rewarded her students for achievement with handmade ice cream sundaes, a tradition at Orchard that has spread to faculty and staff. She now treats her fellow teachers to an ice cream party once a year.
Ransom-Barnes says Patterson also has a talent for getting business and community members involved in the school as Partners in Education, and has a passion for a part of the day that is not typically a favorite for many: carpool and bus duty.
"She never misses a day, even when she's sick," Ransom-Barnes said. "Dismissal moves very smoothly because of her."
"When I come to work, I come to work. I'm going to give my 100 percent regardless," Patterson said. "I feel like even with carpool, bus duty, I want to make sure: Safety is key."
(MCPSS Spotlight is a recurring feature highlighting some of the exemplary staff and employees of Mobile County Public Schools.)
.