25 MCPSS seniors accepted into Austal USA pre-apprenticeship program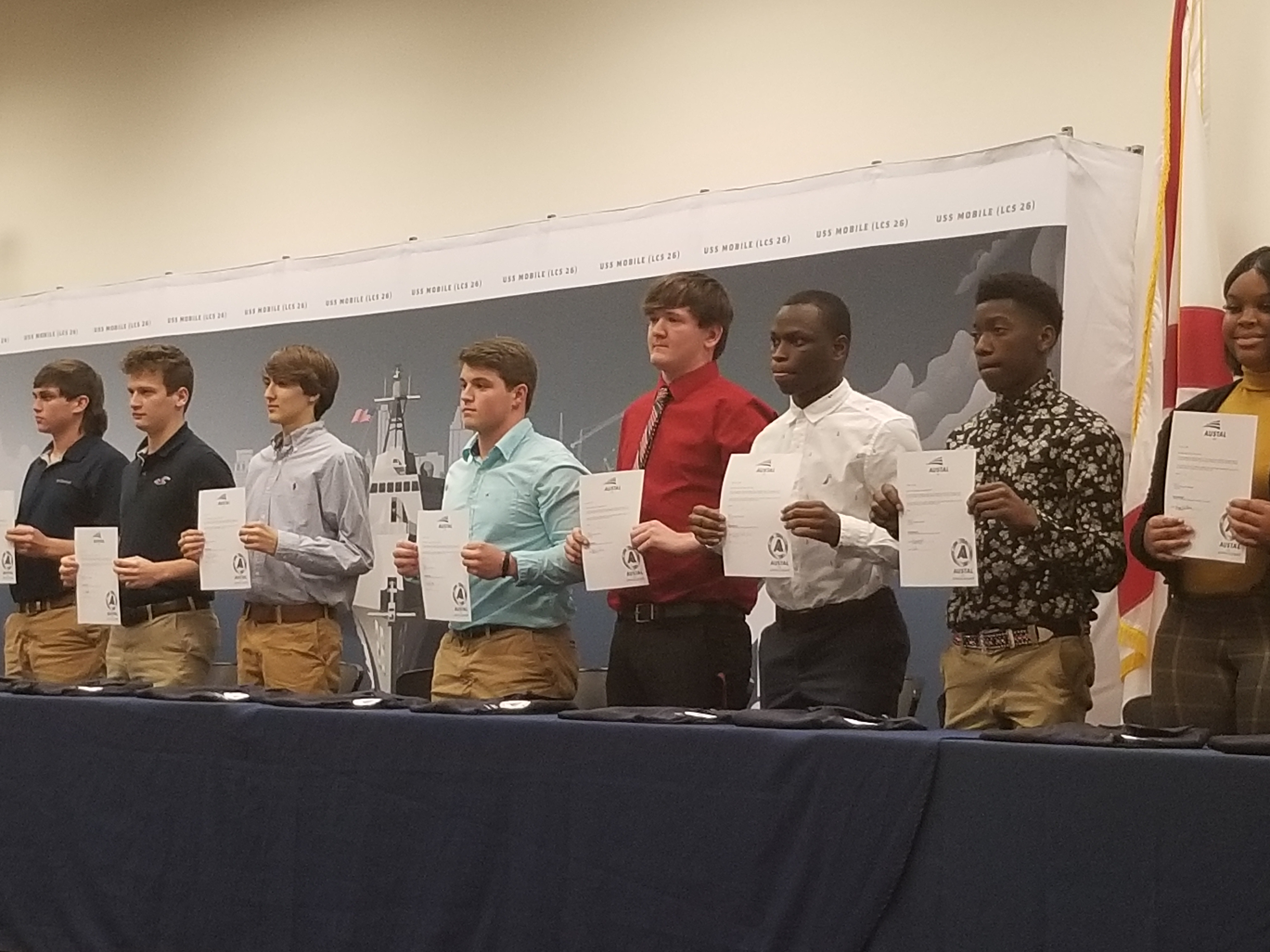 ---
Twenty-five Mobile County Public Schools seniors were welcomed into Austal USA's Youth Apprenticeship Program during a signing ceremony on Monday at Austal's Mobile facility.
In the 12-week Youth Apprenticeship Program, which begins on Feb. 17, students will earn $8 an hour while being trained in the crafts of aluminum ship construction and welding.
The pre-apprenticeship program will prepare students for introduction into Austal USA's four-year apprenticeship program beginning this summer, and allows the Youth Apprentices to earn hours toward that four-year apprenticeship while in high school. It also allows an opportunity for dual enrollment credit through Bishop State Community College.
This program also reinforces the value of technical careers to our economy and our youth, developing their skills and providing a direct career path through apprenticeship immediately upon graduating high school.
Accepted into the program Monday were: Jayson Booze, Tre'mon Tompkins and Gunner Veillon of Baker; Octavious Hubbard of Blount; Justin Gambrell, John Patrick and Michael Wyatt of Alma Bryant; Charles Caver, Matthew Gafford, Farhan Mansur and Christina Sashington of Davidson; Steven Binkley, Jeremy Doherty, Ryan Hightower, Logan Matthews and Logan Weaver of Mary G. Montgomery; Tyler Mitchell of Murphy; Matthew Barnes, Gavin Carter, William Flannagan and Wanya Gray of Theodore; Dontravious Holley and Niya Walters of Vigor; and Shemar Smith and Felix White of Williamson.
"I am so proud to be superintendent of these young students," Mobile County Public Schools Superintendent Chresal Threadgill told the students. "This opportunity signifies that you are hard-working and dedicated. It also signifies that you have a bright future ahead of you."
Austal USA constructs Littoral Combat and Expeditionary Fast Transport ships under contract for the U.S. Navy.
"You're coming into a program as pioneers in how we're beginning to develop technically-skilled employees of the future," Don Keeler, Austal's Vice President of Human Resources, told the students. "The process you went through to be chosen gives you a sense of the challenge that's in front of you. It'll take you some energy, some commitment and some long hours to make this a success at the end of the process.
"We're grateful that you've decided to take this adventure, and I wish you the very best of success and hopefully we'll see you one day as full-time Austal employees."