Austal apprenticeship program leads to jobs for MCPSS graduates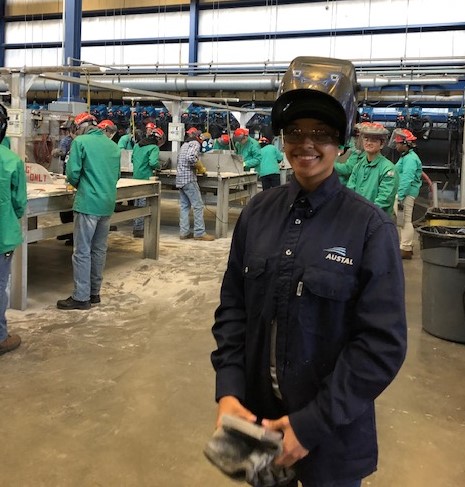 ---
Fifteen members of Mobile County Public Schools' Class of 2020 are walking straight off the graduation stage into jobs at Mobile's largest manufacturing employer.
Tre'mon Tompkins and Gunner Veillon of Baker; Octavious Hubbard of Blount; Michael Wyatt and Justin Gambrell of Alma Bryant; Christina Sashington, Farhan Mansur and Matthew Gafford of Davidson; Steven Binkley and Jeremy Doherty of Mary G. Montgomery; Tyler Mitchell of Murphy; William Flannagan of Theodore; Dontravious Holley and Niya Walters of Vigor; and Felix White of Williamson have been accepted into full-time Fabrication Trade Assistant positions at Austal USA, where they will be building ships for the U.S. Navy.
These students were part of a Youth Apprenticeship program that began in February. Though it was shortened by the onset of COVID-19, over half of the MCPSS students in the program were offered full-time positions with the shipbuilder.
"As full-time employees they now enjoy competitive pay, excellent benefits, and a great career full of possibilities," said Ryan Lee, Austal's Workforce Development Manager. "This is a win-win program for the students, community and industry. It would not be the success it is without great partner school systems across the region and we hope to hire more from the Youth Apprentice class into full-time positions this summer."
"I am so proud of our students who have taken technical courses at our schools and made the commitment to build a career in the shipbuilding trades," said Larry Mouton, MCPSS Assistant Superintendent for Workforce Development. "The transition from high school learner to graduate earner is made easier through our longstanding partnership with Austal USA. Austal has always been at the front of career training through supplying mentors, materials and supplies, field trips and finally training that leads to high wage careers. We greatly appreciate Austal's commitment to our students and the future workforce of our region."
Mobile County Public Schools is preparing students to enter the workforce through its Signature Academies, career-focused learning communities within each of its high schools, and its three stand-alone career-technical centers. MCPSS students get hands-on training in a variety of career fields, from welding to healthcare careers to aviation and aerospace and more, and earn thousands of industry-recognized career credentials every year. Mobile County Public Schools is building tomorrow's workforce today.
We congratulate these new Austal employees and wish them the best of luck in their new careers!