Students return to begin 2019-20 school year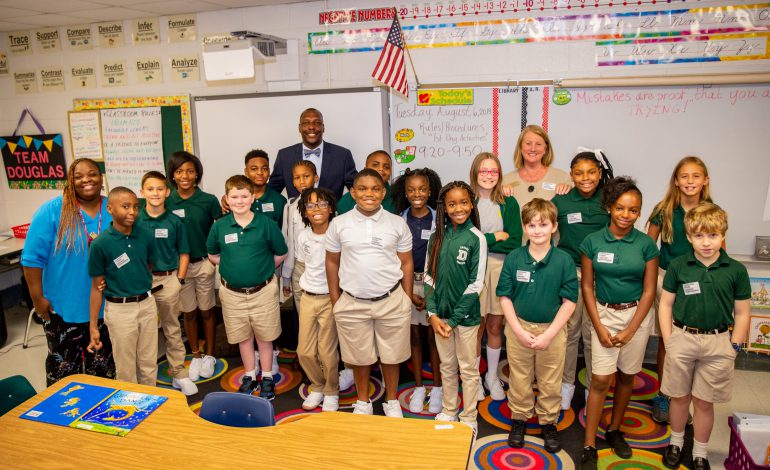 ---
It's a new school year and Dodge Elementary student Jonah Alexander has come to a realization.
"When I was here in kindergarten, I would see the fifth graders and they were really tall. And I would be like: Am I ever going to be that tall?" Alexander said. "Now I'm in fifth grade and I'm that tall."
About 53,000 students returned to classes Tuesday as Mobile County Public Schools opened for the 2019-20 school year. Superintendent Chresal Threadgill, who visited several schools on Tuesday, said students, faculty and staff are all ready to get going.
"The kids are excited, the faculty and staff are pumped, morale is high," said Threadgill, who is entering his second year as superintendent. "I've challenged the faculty and staff to tell our own story, to be positive, to tweet and Facebook and tell all the great things that are happening in Mobile County Public Schools."
Mobile Mayor Sandy Stimpson joined Threadgill at one of his stops on Tuesday, at Dunbar School for the Creative and Performing Arts in downtown Mobile. Stimpson said he's excited to see where MCPSS can go under Threadgill's leadership.
"After getting to know Mr. Threadgill, I am convinced that he has a mission, he has a vision, and he's going to implement a plan to make sure that he succeeds and that our children have the opportunities they deserve," Stimpson said.
Tuesday was also the first day for four new principals, although two of them have been principals before at other schools. Former Scarborough Model Middle School Principal Andrea Dennis is now the principal at Phillips Preparatory and former Mobile County Training School Principal Rashad Stallworth is now at Scarborough. The other new principals are DeAnna Stevens at Collier Elementary and James Patterson at Mobile County Training School.
(UPDATE: A fifth new principal was approved and began work at her new school by the end of the first week of school. She is Hope Belle-Payne of Leinkauf Elementary.)
"I am really excited to see my students, especially the incoming sixth graders," Dennis said. "We know there's a lot of nervous energy, but the students really are excited about getting to see their teachers, going to their new classes and seeing their friends. I have a lot of names to learn and faces to learn and personalities, but I am looking forward to it.
"We're going to continue the tradition of excellence at Phillips."
As the students found their new classrooms, said hello to their new teachers and got settled in their desks, Dodge student Zayden Rodriguez summed up the feelings of many:
"I'm very nervous," Rodriguez said, "but I'm very excited."