Game day security protocol for MCPSS high school stadiums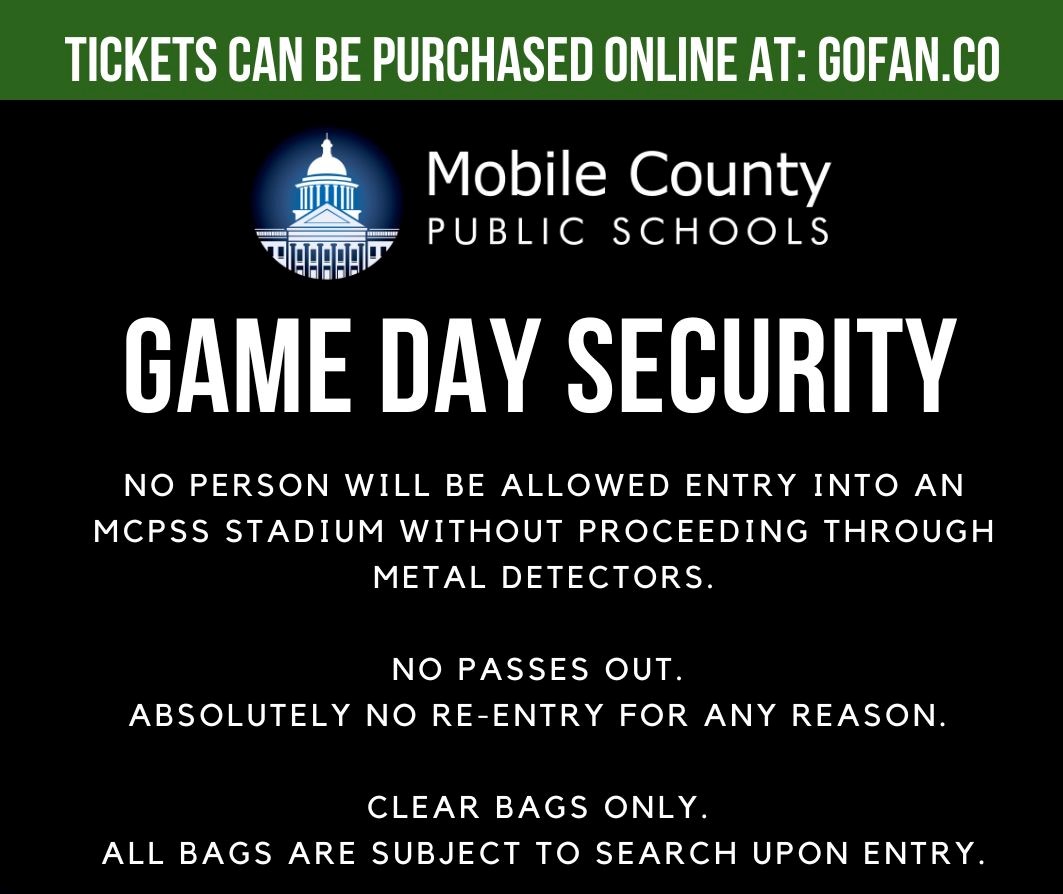 ---
Mobile County Public Schools is looking forward to kicking off the 2023 football season on Thursday, August 24. Here are some of the safety protocols that will be in place at all stadiums:
• No person will be allowed entry into any stadium without proceeding through the metal detectors at entry gates.
• No passes out. ABSOLUTELY NO RE-ENTRY FOR ANY REASON.
• Clear bags only. NO backpacks of any kind allowed. Even clear bags are subject to search upon entry.
• No weapons or dangerous instruments of any kind allowed (guns, knives, pepper spray, etc.).
• No outside food or drink allowed.
• No tobacco products, vapes, or e-cigarettes allowed.
• No spectator will be allowed to change sides of the stadium for any reason, i.e., no moving from home side to visitor side or vice versa.
• MCPSS reserves the right to deny entry and/or remove anyone from sporting venues.
• No loitering in parking lots or areas inside the stadium will be allowed.
Tickets to all MCPSS athletic events can be purchased online at: gofan.co
mcpssTV will again broadcast its High School Football Game of the Week, starting Saturday, August 26, with Blount vs. Vigor in the Battle of Prichard. The games are available on the Mobile County Public Schools Facebook page, Comcast channel 15, AT&T U-verse On Demand channel 99, Mediacom channel 81-21, and Roku boxes.