Mobile Fire, Police play basketball for Fonde cancer fundraiser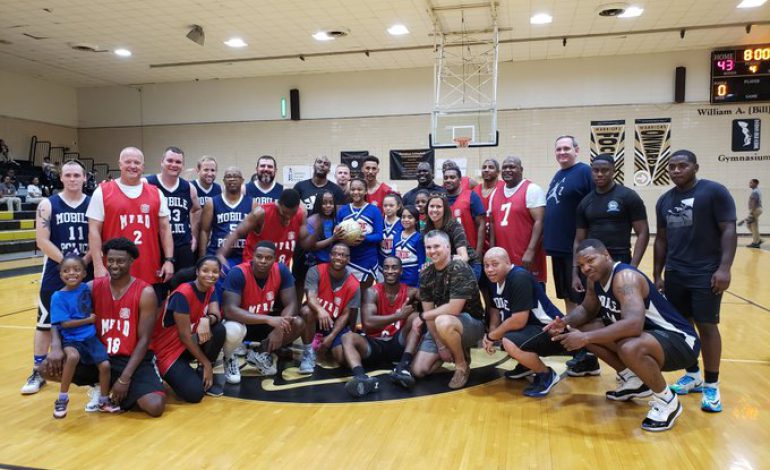 ---
Fonde Elementary fifth-grader Ashley Aquino said she was rooting for both teams as Mobile Police played Mobile Fire-Rescue in a game of a basketball.
"I have a feeling that just one of them might win," said Ashley, proudly wearing her blue, white and red Fonde cheerleading uniform, "but I care about both."
That seemed to be the sentiment of the more than 300 Fonde students who bought tickets to the school's second-annual Police v. Fire Basketball Game to raise money for childhood cancer awareness. The school raised $1,500 in ticket sales for Aubreigh's Army, a local non-profit that supports cancer research in honor of Aubreigh Nicholas, who died last year from DIPG.
Mobile Fire-Rescue bested Mobile Police 43-32 in Friday's game. But more important than the score was that community heroes came together for a good cause.
"We always enjoy playing against these guys," Police Capt. Randy Jackson said of the Fire-Rescue team, "but we especially like it when we get to go to a school and get the children involved."
It lets the kids know, he said, "that we are just people like everyone else. We have a job to do, which is our duty to take care of everyone." But at the end of the day, police officers and firefighters, "we all love each other, even though it doesn't look like it on the court sometimes."
The play got intense at times, but at the end of the game, Mobile Police, in blue, and Mobile Fire-Rescue, in red, came together, shook hands, and hugged.
"It's a lot of fun," said Mobile Fire-Rescue Chief Mark Sealy. "We are competitive by nature, and so are the police officers. We like to compete, but we also have a mutual respect for each other."
Sealy was especially proud to be raising money for Aubreigh's Army, as Aubreigh's father is a firefighter.
Fonde sold more tickets than expected last year, packing its own gymnasium. So this year, Fonde found a larger venue at nearby Davidson High School. That provided the elementary students with an even better experience as they got to see high school JROTC members present the colors, a high school junior sing the National Anthem, and cheerleaders cheer and dance.
"Our students are so excited, and they are just amazed. They are getting to see police officers and firefighters in a different role," said Fonde Principal Joy Gould.
Fonde picks a different charity to raise money for each quarter, and the support was overwhelming for Aubreigh's Army.
"We teach our children that no matter how much we have, we give to others," Gould said. "I love what they've been able to accomplish, and I love watching the kids cheer."