MCPSS teachers bring lessons home from Space Academy for Educators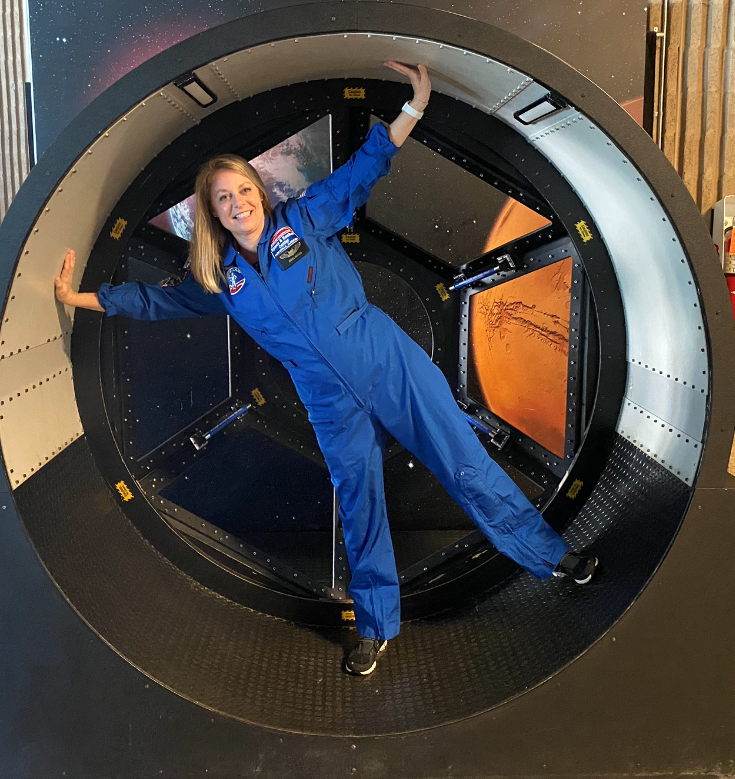 ---
Ten Mobile County Public Schools teachers got some out-of-this-world science-based professional development recently, as they attended Space Academy for Educators at the U.S. Space & Rocket Center in Huntsville.
Participating in the camp were Melissa Foster of Phillips Preparatory; Anna Mouton of Clark-Shaw School of Mathematics, Sciences and Technology; Apryle Mather, Jessica Dennis and Helena Tawzer of Hutchens Elementary; Chasity Lowe of McDavid-Jones Elementary; Amanda Norwood and Tracie Zirlott of Dixon Elementary; Courtney Dixon of Morningside Elementary; and April Weitz of Semmes Elementary.
While adhering to social distancing guidelines due to COVID-19, teachers got to experience authentic astronaut training simulators, including a multi-axis trainer, a 1/6 gravity chair, and simulated missions to Mars and the International Space Station. They also participated in project-based activities such as a rocket launch and the construction of landing gear and heat shields, as well as classroom-based activities using NASA-inspired lesson plans and other curriculum correlated to National Science Education Standards.
"I got to be a pilot of the Shuttle and try to land it," Mouton said. "I also got to drive a computer-based Mars Rover and gather soil and rock samples. I really enjoyed doing this because it was a simulation of the rover currently on Mars and the one heading there at the end of this month."
The teachers had an opportunity to meet a former astronaut and a NASA engineer. Some of the activities, such as experiencing relative weightlessness and ziplining backwards to simulate a water landing, took them out of the comfort zones.
"I was determined to try everything, even if it involved heights or going upside down," said Lowe, who teaches fifth grade. "I can't wait to teach my students using the materials we were given and complete some of the experiments we did while at Space Camp, like the rocket launch, Sphero robots, Oreo moon phases, and Egg drop."
Mather, a kindergarten teacher, said she went to the Academy to become a better kindergarten science teacher. Though many of the concepts may seem geared toward older students, she said she sees many ways in which she can incorporate the lessons in her classroom.
"Space Camp gave me the resolve to teach the youngest learners teamwork and leadership skills that are necessary for some many areas in not only school, but in every area of their life," she said. "I am teaching children who one day may have a career in aerospace, defense, energy, technology and education. It is so important to give young students experiences that are exciting and pique their interest in science early."