MCPSS names Neidhardt, Mouton and Pippin as countywide Teachers of the Year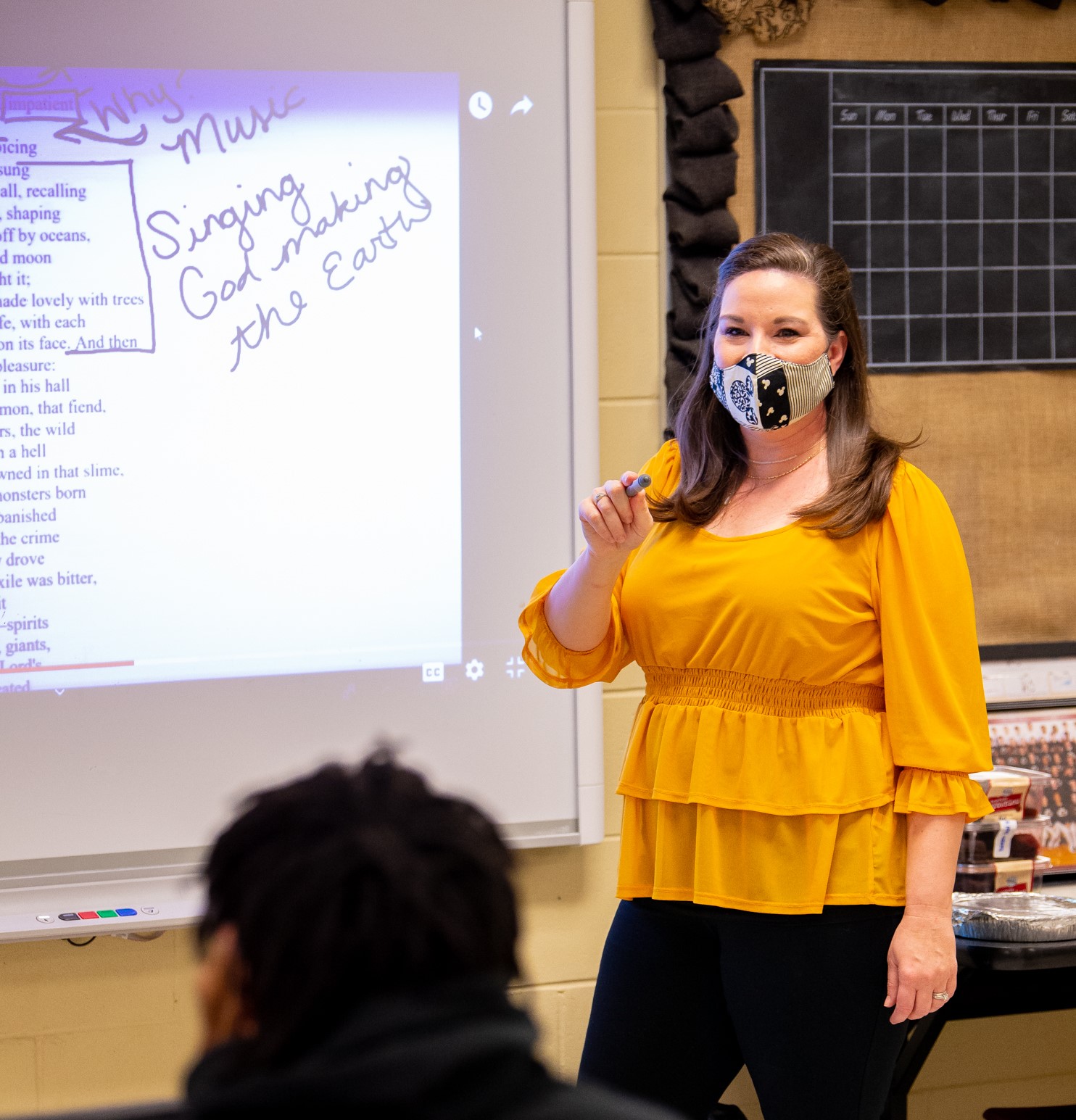 ---
One created an innovative way for elementary students to learn science collaboratively. One is a Library Media Specialist who believes libraries should play an active role in education. And one is an English teacher who has been instrumental in implementing technology in her school's classrooms.
Mobile County Public Schools' 2021 Teachers of the Year are Julie Neidhardt of Hutchens Elementary School, Anna Mouton of Clark-Shaw School of Math, Science and Technology, and Deborah Pippin of Citronelle High School.
"We are blessed to be able to honor these three individuals – Julie Neidhardt, Anna Mouton and Deborah Pippin - as Mobile County's Teachers of the Year," said Mobile County Public Schools Superintendent Chresal Threadgill. "To be nominated by your school is an incredible honor. However, today, these educators are going even beyond that by being recognized as the best of the best in all 89 of our schools. The fact that these educators are being honored this year of all years is a testament to their talent and to the positive impact they are making in our community. I could not be more proud of them and the colleagues they represent."
The honorees were surprised in their classrooms with news of the awards on Friday. Mobile County's Elementary and Secondary Teachers of the Year will now be nominated for Alabama Teacher of the Year.
Here is some more information about each of the honorees:
Julie Neidhardt, Hutchens Elementary – Elementary Teacher of the Year:
Julie Neidhardt is a National Board Certified Teacher who has received the Presidential Award for Excellence in Math and Science Education. An educator in Mobile County Public Schools for 22 years, Neidhardt established the N.E.S.T. (Nurturing Engineering, Science, and Technology) lab at Hutchens Elementary, where she leads 574 kindergarteners through second-graders in collaborative science lessons. Students receive inquiry-based instruction and participate in hands-on science experiments designed to empower them in their learning. Neidhardt also trains other teachers on how to offer collaborative science lessons through the N.E.S.T.
Neidhardt's success has had a positive impact on teachers and learners globally. She has trained teachers in the United Arab Emirates in STEM (science, technology, engineering and mathematics) education. And she co-hosts the podcast NextInEd, where she interviews educators, inventors and writers from across the country on timely topics.
Neidhardt has a bachelor's degree in geology and geography from the University of South Alabama, a master's degree in teaching from Spring Hill College, and a Certificate in Instructional Leadership from the University of West Alabama. Neidhardt has a three-step approach to teaching science: ignite curiosity, investigate, and invite connections. Her mission statement is to: "Love-Serve-Teach."
Anna Mouton, Clark-Shaw School of Math, Science and Technology – Middle School Teacher of the Year:

Anna Mouton is a Certified Library Media Specialist and a National Board Certified Teacher who believes a library is not just a depository of knowledge, but a purveyor of knowledge. A 19-year veteran educator, she taught third and fourth grades and served as a computer lab instructor before becoming the Library Media Specialist at Clark-Shaw School of Math, Science and Technology in 2006.
In this role, she has been instrumental in supporting Clark-Shaw's staff, collaborating with teachers, promoting educational resources, providing books for exploration and pleasure reading, teaching media literacy and digital citizenship, and linking students and staff to resources in information. She believes in the power of a good story and has worked to help students discover them, striving to engage their sense of curiosity.
Mouton has served as an Alabama School Library Association awards committee member, a member of MCPSS' curriculum and handbook revisions committees, and a Digital Literacy Team member and Professional Development trainer at her school. She's also a Space Academy for Educators graduate, an Alabama Virtual Library Certified Trainer, a Nearpod Certified Teacher and a Google Level 1 Certified Teacher.
Mouton is a graduate of the University of Southwestern Louisiana who has an Alternative Master's in Elementary Education from South Alabama and an add-on certification in library media from West Alabama.
Deborah Pippin, Citronelle – MCPSS High School Teacher of the Year:

Pippin is a National Board Certified Teacher who has been a leader in integrating technology at her school. A 15-year veteran English teacher at Citronelle High School, she has worked as a member of her school's Digital Literacy Team to survey teacher technology use, learn about new technology resources and provide professional development that encourages the use of these tools in the classroom.

The work she and her colleagues on the Digital Literacy Team did in Citronelle made for an easier transition when Mobile County Public Schools went to remote learning in the spring of 2020 due to the COVID-19 pandemic.

She's also passionate about making relevant connections to literature that students may initially find irrelevant, using literary discussions to build relationships, share life lessons and connect with students in their own worlds. She serves as English department chairperson, leadership team member and new teacher mentor, and co-sponsors Citronelle's National Honor Society, Fellowship of Christian Athletes, Hi-Q/Scholar's Bowl and senior class.

Mrs. Pippin is a 2006 graduate of the University of South Alabama and she and her husband, Jeff, have been teaching at Citronelle ever since. She is also involved in the community, organizing student volunteer opportunities at community events like the Tim Tebow Foundation's "Night to Shine, community celebrations and improvement projects. She received her Master's in Education from Arkansas State University in 2017 and her Specialist of Education in Instructional Leadership from William Carey University in 2019.