11 MCPSS middle schools selected for We Build It Better pilot program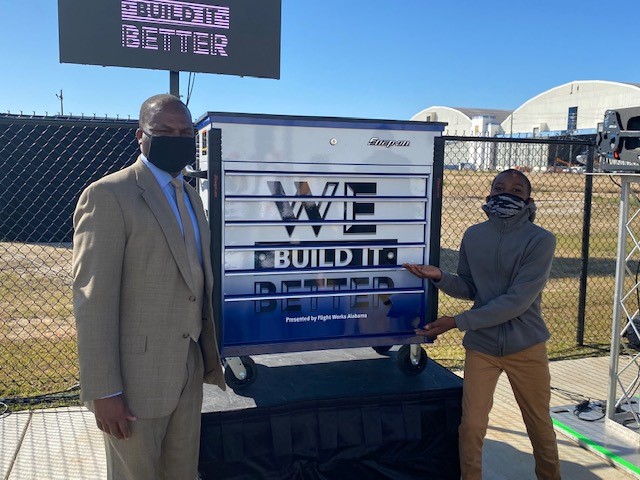 ---
Eleven MCPSS middle schools were selected to participate in We Build It Better, an industry-developed aviation and engineering educational program developed by Flight Works Alabama and its industry and educational partners.
The MCPSS middle schools selected to participate in the program are: Alba, Burns, Calloway-Smith, Causey, Chastang-Fournier, Denton Magnet, Grand Bay, Hankins, Lott, Pillans and Scarborough.
When this pilot program begins in the spring, each school will get a chest full of tools and project-based curriculum specially designed to equip students with the skills to become technically and technologically literate citizens who can be the next generation of industry leaders. Students will be able to apply knowledge gained in their science, mathematics, computer science and other classes to solve industry-related engineering design problems.
"It hits exactly what we've been trying to do for years, and that's to make sure that what we're teaching students in school is exactly what industry needs – real tools, real experiences and real relationships with business and industry," MCPSS Assistant Superintendent for Workforce Development Larry Mouton said of the program. "I'm very, very excited for the pilot schools that have jumped on board."
The program is being sponsored by the State of Alabama, Airbus, Alabama Power, Amazon Web Services, Mott McDonald and Snap-on Tools, with educational support provided by the University of West Alabama and the University of South Alabama.
Mouton, State Superintendent of Education Dr. Eric Mackey and State Secretary of Commerce Greg Canfield spoke at the unveiling of the program at Flight Works Alabama on Thursday, and the event was moderated by Michelle Hurdle, Director of Economic and Community Development for Airbus, who is also the president of the board for the Alabama Aviation Education Center. MCPSS Superintendent Chresal Threadgill, other members of the MCPSS leadership team, city and county leaders and other dignitaries were on hand for the event.
"We feel that We Build It Better is a new and innovative approach to improve our future workforce by introducing those basic skills of business manufacturing and leadership among young Alabamians," Canfield said. "It's really vital that children at younger ages have an opportunity to learn and embrace the skills which allow them to be creative, to dream creatively, to imagine, to invent and to innovate.
"These 13- and 14-year-old students, I recognize at their age, they may not design tomorrow's new aircraft or new automobile. But, they may."
Dr. Mackey said the program's combination of traditional tools such as screwdrivers and wrenches and new technology such as 3D printers and computer software will provide the students with a well-rounded idea of how modern industry works. "They are learning that those things go together to build the future," he said. "It'll have an immeasurable impact on our students and will help them create better futures for themselves, for our state and our country."