Murphy's volleyball coach hits winning milestone
Posted by Comm. Dept. in Athletics | Comments (6)
Congratulations to Murphy High School Coach, Nancy Shoquist who recently won her 1000th volleyball game! She is pictured below with her team and the game ball.
The Murphy volleyball team also won the Back to School bash volleyball tournament in Baldwin county.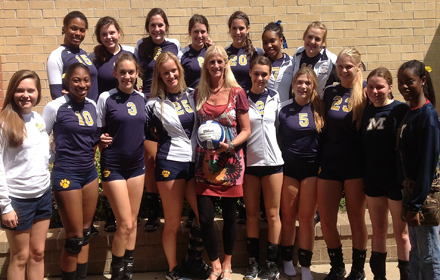 ---
Comments on "Murphy's volleyball coach hits winning milestone"
Congratulations Coach Shoquist!!! You are my definition of a First Class Coach!!! Keep up the WONDERFUL work!
Congratulations Coach, You are an inspiration to us all!!
Way to go Coach Shoquist! You are a winner on and off the court! We are blessed to have you here at Murphy!!
Congratulations Coach Shoquist on reaching this achievement in your coaching career. I look forward to calling MANY more games for you and your teams. Good Luck with the rest of your season.
Coach Shoquist,
Congratulations on a job well done.On behalf of the Mobile Area Volleyball Official's Association.
Secretary-Faye Hussong
Add your comments: