New Parent-Student Information System Coming Soon
Posted by Comm. Dept. in Information Technology | Comments (9)
The Mobile County Public School System (MCPSS) is working on a new state mandated program for access to your students' school information. No longer will you need a login and password for each of your students. With the new Information NOW (also known as INOW) Parent portal you will have one login for all of your Mobile County Public School students.

Information NOW will allow parents access to their child's data from anywhere, anytime. Parent Portal is an integrated component of InformationNOW through which parents can view:
Attendance by period or minute and all check-ins and outs
Progress reports, report card grades, class averages, individual activities and unofficial transcripts
Student schedule by term
Homework assignments
Discipline reports
School calendar and announcements
Demographic information from the student's record
RSS feeds/alerts
Each parent has only one login regardless of number of children enrolled in the district
Each parent or guardian can have his/her own unique log-in
Hyperlinks are available within portal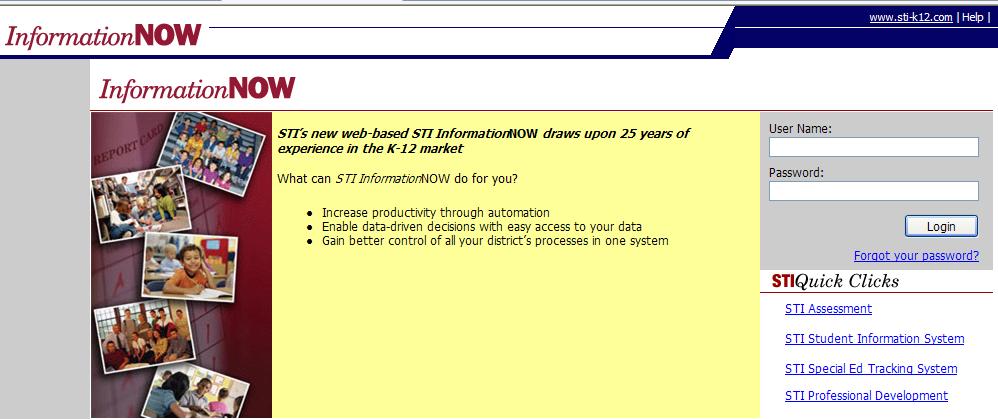 The MCPSS schools are still in the process of getting everyone enrolled and scheduled. Once this process is complete, you should receive your new Login and Password from your student's school. Thank you for your patience during this process as our department works diligently to deliver to you this new and exciting technology. Please continue to view our website for updates on the new INOW Parent Portal!
Charles Martin
Student Data Manager
Mobile County Public Schools
---
Comments on "New Parent-Student Information System Coming Soon "
It would be nice if teachers got some training on how to use the program.
Please hurry up and get this up and running my child set in highschool last year and did nothing and guess what the only way I knew was sti not one of her teachers contacted me.
The STI site is very informative. I agree with the comments concerning the teachers updating the classroom and homework information. The teachers should be required to post updates on classroom and homework atleast once a week.
How soon will it be ready?
I just hope that all the teachers will update homework info daily & grades.
Cheri
Citronelle, Al
How will we be able to sign on? Will it be with the same information we used with the STI? I really enjoyed the STI (as long as the teachers updated it).
Will this have all the same info - like grades & everything?
I am want to know when I will get access to my childs grades.
THIS WEBSITE IS VERY IMPORTANT TO ME, AS THIS WAY I KNOW WHAT MY CHILDREN ARE DOING IN SCHOOL, AND WHAT THEY AREN'T DOING. I WILL BE SO GLAD WHEN IT IS AVAILABLE.
THANK YOU!
i think that is a great ideal as long as the information is kept up-dated.
Commenting has been turned off for this entry.